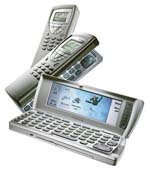 Cell weds PDA
Roopinder Singh
IT looks like a pencil box, but you can only say so at the risk of incurring grave displeasure of the owner. Those who just have to have it can't wait to get their hands on the latest gizmos, in this case the cellphone/PDA (personal digital assistant) combo, are rather excited by it. Some have it, others do not. Among the haves in Chandigarh is Trilochan Singh Anand, who uses a Nokia 9210i. Now Trilochan is a veteran gadget aficionado—maybe it has to do with his IIT background. He started off with a digital diary in the 80s. That was a Casio, which had its uses and was quite snazzy for its time, but eventually it was replaced with a Palm V, one of the most popular and easy to use personal digital assistants.

Lifesaving robots
Masayuki Kitano
They look like something out of a science fiction movie, but they are real. One resembles a giant spider; another calls to mind a stubby snake or a worm. But Japanese researchers think robots like these, built to detect landmines or search rubble for earthquake survivors, may soon save human lives.

Interest matures with age
Amardeep Gupta
PARENTS, administrators and teachers play a crucial role in encouraging the use of computers among children. The question is how (to use), when (to use) and what (computer experiences are appropriate). Research has been done to understand how information technology affects children of different age groups. Children, however, differ in their development and maturity.

Pakistan, the mecca of pirated software
Amir Zia
A shabbily dressed hawker squabbles with a teenager over the price of a latest Microsoft Windows programme in Pakistan's biggest city Karachi. The deal is closed at Rs 40 — nearly $0.70. Saad Hasan has just bought a pirated copy of Windows XP, which is more readily available in Pakistan than the licensed product that retails at Rs 5,800 ($ 100).

Thinning down computing problems of schools
Sanmeet
THIN clients are the next generation of computing. Used in client/server applications, thin clients are designed to be especially small so that the bulk of the data processing occurs on the server. The term thin client is an especially popular buzzword now because it serves as a symbol dividing the computer industry into two camps. On one side is a group led by Netscape and Sun Microsystems advocating Java -based thin clients running on network computers.

IT WIT
by Sandeep Joshi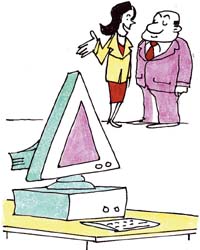 To commemorate 50 years of Everest conquest, this is the latest PC design that we have come out with.

Judgement deters software pirates
Gaurav Kumar
EVERY year software piracy worth billions, which takes place in India, causes huge loss to IT. Even the giants in this field have been watching helplessly as their copyrights and trademarks are being ripped off blatantly. The Information Technology Act has also not been able to put any control on it. Under such conditions, a judgement of a Hyderabad court sentencing three persons to six-months' imprisonment and a fine of Rs 50,000 for unauthorised copying and sale of pirated software can certainly be considered landmark.


Stress comes calling in call centre industry
Geeta Seshu
LONG hours of work, permanent night shifts, incredibly high work targets, loss of identity...are these the dark clouds that threaten to mar the 'sunshine' call centre industry in India?Many of these young persons - between 18 and 21 years - are seeking counselling. "In the past four months we have been counselling at least two persons every week who work in call centres," says Dr Jitendra Nagpal, a psychiatrist at the Delhi-based Vidyasagar Institute of Mental Health and Neurosciences (VIMHANS).


Pros and cons of digicam
Venita Sajwan
Digital photography is a union of photographic techniques and computer technology. Digital revolution in the field of photography has enhanced the quality of the pictures clicked while doubling up the processing speed.