Monday, June 2, 2003
Feature
Pakistan, the mecca of pirated software
Amir Zia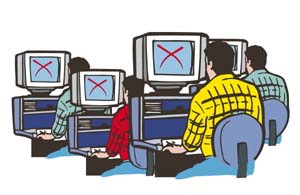 A shabbily dressed hawker squabbles with a teenager over the price of a latest Microsoft Windows programme in Pakistan's biggest city Karachi.
The deal is closed at Rs 40 — nearly $0.70.
Saad Hasan has just bought a pirated copy of Windows XP, which is more readily available in Pakistan than the licensed product that retails at Rs 5,800 ($ 100).
"Who can afford the original?" he said as he ran his fingers over row after row of CDs piled on the rickety pushcart. "It would have cost me thousands of rupees. I can't afford that."
Another cart is stacked with Hollywood blockbusters and Indian "Bollywood" movies, all selling at less than a dollar.
The Washington-based International Intellectual Property Alliance ranked Pakistan one of the world's largest producers of pirated CDs and other optical discs for export in both 2001 and 2002.
It says piracy of movies and music cost the industry nearly $ 72 million in Pakistan in 2002 and $ 71 million the year before.
Now it wants Pakistan placed on the priority watch list and has urged withdrawal of trade privileges on its exports to the USA if the government fails to tackle the problem.
Pakistan says it has upgraded legislation to comply with international agreements. The Commerce Ministry says it plans to set up an Intellectual Property Rights Organisation to improve enforcement.
"Raids are conducted against violators and offenders are also being prosecuted," it said in a written response to queries. "The illegal, offending material is being confiscated and in some cases being publicly destroyed."
Despite this claim, pirated products remain on open sale in virtually every market in the country.
Industry officials say a powerful mafia engaged in producing and selling pirated articles has effectively blocked half-hearted police efforts to crack down on the business.
According to Microsoft country manager Jawwad Rehman, more than 90 per cent of the software and movies sold in Pakistan are pirated.
"We give heavy discounts to education institutions and students, but there are no buyers," he said. "They can get the pirated programs much cheaper."
Licensed Microsoft Office programs cost Rs 22,500 ($390), while the discounted rates are around Rs 9,000 ($ 155). The pirated program on three CDs costs as little as Rs 75 ($1.30).
The 12-storey Rainbow Centre in Saddar, the heart of Karachi, is Pakistan's biggest centre for pirated movies and software with more than 200 shops.
Mohammed Omar, president of the Rainbow Video Cassette Dealers Association, says the market was providing a service for the poor.
"We are providing them with entertainment and knowledge. We cannot afford to sell copyright products as people cannot afford to buy."
Tariq Rangoonwala, who runs Pulse Global, a company which markets English-language movies under licence for home entertainment, said piracy had all but killed his business.
"We started well in 1995, but now our sales are, I would say, non-existent," he says.
Legitimate dealers are pushing the government to implement anti-piracy laws, but with little success. "Laws are there to fight the problem," Rehman said. "The only issue is their implementation."