M A I N N E W S
Pilot dies as one more MiG-21 crashes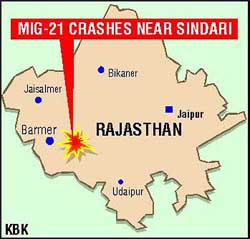 Jaipur, June 4
A MiG-21 fighter aircraft crashed near Uttarlai airbase in Barmer in Rajasthan today, killing its pilot Flight Lieutenant A.S. Jamwal.
An IAF spokesman said the aircraft, which was attempting low level flying manoeuvre, apparently went out of control and crashed infield west of Uttarlai at 0710 hours.
There was no casualty on the ground as the plane crashed at an uninhabited place.
A court of inquiry has been ordered into the crash, the spokesman said in Delhi.
According to police reports, the debris of the aircraft was strewn over an area of a kilometre and a half.
The IAF officials said the aircraft was a type 75 variant of the fighter aircraft which was among the earliest MiG-21s inducted into the IAF. Most of these fighter variants are being phased out along with F/L variant.
This is the second of the MiG-21s which the IAF has lost this year. Besides the two MiG-21s, the IAF has also lost another MiG-23 and a Jaguar fighter aircraft in crashes this year.
A total of 49 category-I aircraft accidents, involving the MiG aircraft, have occurred over the past three years.
The IAF has identified three major reasons for the crashes - human error, technical defect and bird hit. However, the IAF has seen more of crashes due to human error in the past few years, which has raised doubts about the training being imparted to the pilots. PTI