HOROSCOPE
THE TRIBUNE MAGAZINES
On alternate Mondays

On Sundays
On Saturdays
IN PASSING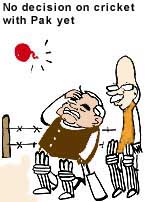 This game is full of spin, googlies and bouncers.

by Sandeep Joshi
Pilot dies as one more MiG-21 crashes
Jaipur, June 4
A MiG-21 fighter aircraft crashed near Uttarlai airbase in Barmer in Rajasthan today, killing its pilot Flight Lieutenant A.S. Jamwal.
NHRC to probe attack on Dalits
New Delhi, June 4
The National Human Rights Commission has ordered an investigation into a case of alleged atrocities on Dalit families in Haryana by upper caste people under the patronage of political leaders.
Govt to dispose of old wheat
New Delhi, June 4
In an effort to prevent the rotting of old stocks, the government will dispose of one million tonnes of wheat from official granaries within the next month, Union Food Minister Sharad Yadav said here today.


World page: Dominican Republic student Miss Universe
Panama City, June 4
Amelia Vega, an 18-year-old high school student and aspiring singer from the Dominican Republic, was crowned Miss Universe 2003 today amid strict security, leaving behind 70 contestants, including India's Nikita Anand.


Miss Dominican Republic Amelia Vega celebrates as she wins the Miss Universe 2003 title at the Figali convention centre in Panama city on Tuesday.
— AP/PTI photo
Rain in HP
Shimla, June 4
A dust storm followed by brisk showers here brought down the mercury significantly, providing the much-needed respite to the people who were reeling under oppressive heat for the past one-week.


Campaigning a low-key affair
Shimla, June 4
With just four days left for polling, electioneering in the three tribal Assembly segments has reached its peak with top leaders of the Congress and the BJP making efforts to woo voters.
Pilot dies in MiG-21 crash
June 4, 2003

World leaders support India on terrorism
June 3, 2003

Bush agrees with PM's peace terms
June 2, 2003

Ties with India tops China agenda
June 1, 2003


Govt vacillating on Pak: Sonia
May 31, 2003


Vajpayee flays West's doublespeak
May 30, 2003

Atal rejects fresh decision on Kashmir
May 29, 2003

Jamali will hold talks with Vajpayee: Pervez
May 28, 2003

India sets rider for troops to Iraq
May 27, 2003

BJP moots job quota for upper caste poor
May 26, 2003

3 new Cabinet ministers sworn in
May 25, 2003