Saturday, June 7, 2003, Chandigarh, India


N A T I O N
Advani leaves for USA, UK
New Delhi, June 6
Deputy Prime Minister L.K. Advani today embarked on a 12-day crucial visit to the USA and UK via Mumbai. The tour encompasses visits to New York, Washington, Los Angeles, Chicago and London.
Medha Patkar ends fast
Nasik, June 6


The Narmada Bachao Andolan leader Medha Patkar today ended her indefinite fast after receiving a faxed assurance from the Maharashtra Government regarding the rehabilitation of tribals affected by the Sardar Sarovar project.
Tax on paddy for exporting rice challenged
New Delhi, June 6
The validity of a provision of the Haryana General Sales Tax Act, identifying paddy and rice as two different commodities for levying tax on rice for export, has been challenged in the Supreme Court on the ground that the state has no jurisdiction or competence to pass such a legislation.


Prime Minister Atal Bihari Vajpayee being honoured at the foundation laying ceremony of the Mega Koshi railway bridge at Nirmali in Bihar on Friday. Bihar Chief Minister Rabri Devi looks on.
— PTI
CPM divided over alliance with Congress
Kolkata, June 6
The CPM politburo which met in the city today, was sharply divided over the issue of joining hands with the Congress and other secular parties against the BJP in the forthcoming Assembly elections in November in four states, including Delhi.
Antarctica mission returns
Vasco-da-Gama, Goa, June 6
The Indian scientific expedition to Antarctica has returned with a large sample of icecore from the south polar region for conducting "micro-paleo-climatic studies" that would provide an insight into the climate changes on Earth over millions of years.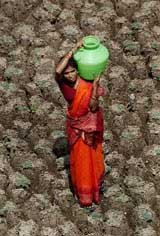 A woman carries water across the dry bed of the Usmansagar lake, Hyderabad, on Friday.
— Reuters

SC notice to Haryana in Panchayat Act case
June 6, 2003
Law panel opposes blanket power to police
June 5, 2003
Do Somnath to Bhojshala: Uma
June 4, 2003
RLD MLAs play hide and seek
June 3, 2003
Maya might curtail tour to save govt
June 2, 2003
Economic Union prelude to greater separation: ex-PM
June 1, 2003
Pak WMDs may fall into radicals' hands: India
May 31, 2003
VHP rejects Naidu's proposal on mosque
May 30, 2003
Aziz formally named Pak High Commissioner
May 29, 2003
BJP rally today to woo Muslims
May 28, 2003