HOROSCOPE
THE TRIBUNE MAGAZINES
On alternate Mondays

On Sundays
On Saturdays
Up to 70 pc polling in Himachal tribal areas
Shimla, June 8
Moderate to heavy turnout was reported from the three tribal Assembly segments, which went to the polls today.
No role for politicians in Ayodhya: seer
New Delhi, June 8
Discounting any role for political parties in the Ayodhya issue, Shankaracharya of Kanchi Kamakoti Peetam Jayendra Saraswathi today said a joint appeal on behalf of Hindus and Muslims to politicians to keep out of the Ayodhya tangle for an amicable solution of the vexed problem is being prepared.
Advani must quit, feels Opposition;
BJP says no
New Delhi, June 8
Even as the Opposition parties, including the Congress, have demanded the resignation of Deputy Prime Minister L. K. Advani, Human Resource Development Minister Murli Manohar Joshi and others who have been chargesheeted by the CBI in the Ayodhya case, the BJP today ruled out their resignation.
Monsoon hits southern coast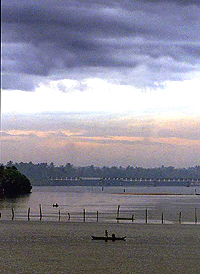 New Delhi, June 8
The monsoon hit the southern coasts of the country today bringing rains to Kerala and Tamilnadu and raising hopes of an immediate respite from the heatwave that has claimed as many as 1,400 lives, most of them in Andhra Pradesh, in the past three weeks.

A boatman rows his boat in the backwaters of Kerala as monsoon rains hit southern coast on Sunday bringing respite from the three-week long heatwave in the region.
— Reuters photo

Cool breeze eases temperatures


Vohra in Jammu, meets Panthers
Jammu, June 8
The Panthers Party today demanded the reorganisation of the three divisions of Jammu and Kashmir and ending the "discrimination" against the Jammu and the Ladakh regions as Mr N.N. Vohra, Centre's interlocutor for hammering out a solution to the J&K imbroglio, reached here this afternoon.
Mosque demolished at Advani's instance: accused
June 8, 2003

Talhan, Jalandhar remain tense
June 7, 2003

12 hurt in Jat-Dalit clash
June 6, 2003

88 more die of heatwave
June 5, 2003

Pilot dies in MiG-21 crash
June 4, 2003

World leaders support India on terrorism
June 3, 2003

Bush agrees with PM's peace terms
June 2, 2003

Ties with India tops China agenda
June 1, 2003


Govt vacillating on Pak: Sonia
May 31, 2003


Vajpayee flays West's doublespeak
May 30, 2003

Atal rejects fresh decision on Kashmir
May 29, 2003

Jamali will hold talks with Vajpayee: Pervez
May 28, 2003

India sets rider for troops to Iraq
May 27, 2003