Tuesday, June 10, 2003, Chandigarh, India



B U S I N E S S
BSES to set up transmission firm
Shareholders approve change of company's name to Reliance Energy
Mumbai, June 9
To broaden its operations in the power sector, Reliance Group's BSES Ltd has decided to set up two new corporate entities in transmission and energy trading areas even as shareholders today approved the change of the company's name to Reliance Energy Ltd.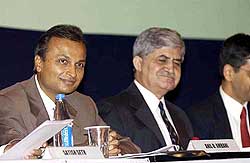 BSES chairman and managing director Anil Ambani addresses shareholders at the 74th annual general meeting in Mumbai on Monday. — PTI photo

Pak businessmen to visit India on June 28
New Delhi, June 9
A 40-member delegation of Pakistani businessmen will visit India on June 28 and 29 on the invitation of Ficci. "The Ministry of External Affairs (MEA) has assured Ficci that it will grant visas to Pakistani businessmen", a statement issued by Ficci said.
New industrial estates for Haryana
Chandigarh, June 9
The Haryana State Industrial Development Corporation (HSIDC) has prepared a plan to set up new industrial estates in Badli, Bahadurgarh, Manesar (Phase-II and III), Barhi (Phase-II), Special Economic Zone ,Gurgaon, Ambala-Chandigarh road and Yamunanagar.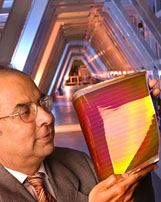 Subhendu Guha, president and chief operating officer of United Solar Systems Corp., holds a sample of solar cell material, on Monday at their manufacturing facility in Auburn Hills, Michigan. The US Air Force Research Laboratory awarded Uni-Solar, the world leader in thin-film amorphous silicon solar technology, an $11.5 million contract to develop new solar cell technology to be used in space and airship vehicles addressing defence and homeland security applications. There is a growing need for lightweight, flexible and durable solar arrays on satellites and airships.
— Reuters