M A I N N E W S
Heatwave claims six more lives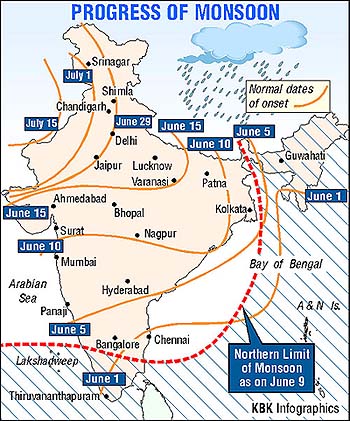 Chandigarh, June 9
The heatwave, sweeping most of the north-west plains, has claimed four more lives in Haryana and two in Punjab, taking the toll to 58, the highest ever in any summer season so far in the region.
Reports said four more persons have died in Hisar district since yesterday. With this 11 persons have lost their lives in the district, which experienced hottest weather last week, as mercury soared to 47.8°C, six degrees above normal. In Bathinda district, two more pesons died.
The Palam area of the National Capital Territory of New Delhi, skirting Gurgaon, turned out to be the hottest place in the region with mercury soaring to 44.2°C.
Though the moisture-laden easterlies brought relief to the people for the second successive day, keeping the maximum one to six degrees below normal. However, as the day advanced, blazing sun occasionally made its appearance from thick dust haze, that has enveloped the region since Saturday.
Amritsar district with the high of 34.6°C was cooler by six degrees below normal temperature. Ludhiana and Patiala reporting the highs of 37.4°C and 37.9°C, respectively, were cooler by five and three degrees below normal temperatures.
Chandigarh and surrounding areas, after a pleasant respite, saw the mercury today soaring to 37.4°C from yesterday's 34.4°C. This still was three degrees below normal.
Ambala too reported the high three degrees below normal at 38.1°C.
Shimla, however, was hotter by five degrees above normal temperature at 29.5°C, Srinagar turned pleasant following 16.4 mm rains overnight. The day temperature today dipped to 23 °C, five degrees below normal. Jammu reported traces of rains.
Bhuntar and Sundernagar in Hmachal were hotter at 36.7°C and 37.4°C, respectively.
With dust haze persisting, weathermen here have forecast dust and thunderstorms at isolated places in Haryana and Punjab. Rains or thundershowers were likely to occur at a few places in Himachal over the next 48 hours. UNI