HOROSCOPE
In Health Tribune today
THE TRIBUNE MAGAZINES
On alternate Mondays

On Sundays
On Saturdays
IN PASSING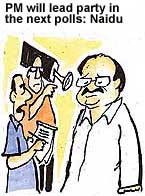 Wait for 2 seconds. He may change his statement.
by Sandeep Joshi
Bhardwaj 'surrenders'
Chandigarh, June 10
Exactly a month after the absconding Chandigarh Civil Judge-cum-Judicial Magistrate, S.S. Bhardwaj, escaped from the custody of the Central Bureau of Investigation (CBI), the judicial officer today landed at the Sector 30 office of the agency at about 10 am here.


The suspended Judicial Magistrate, S.S Bhardwaj, comes out of the General Hospital, Sector 16, Chandigarh, after he was medically examined on Tuesday evening.
— Tribune photo Manoj Mahajan
ASI fabricating evidence in Ayodhya,
says Waqf board
Lucknow, June 10
The Sunni Central Waqf Board (SCWB) has moved the high court saying that the Archaeological Survey of India (ASI), which is carrying out an excavation at the disputed site in Ayodhya to ascertain whether a temple existed at that place before a mosque was built in the 16th century, has fabricated "evidence" at the disputed site.
UP RLD legislators arrive in Shimla
Shimla, June 10
Legislators of the Rashtriya Lok Dal (RLD), who have been on the run ever since the party withdrew its support to the Mayawati government, arrived here this afternoon from Srinagar.
SAD gears up for Badal's impending arrest


Chandigarh, June 10
The President of the Shiromani Akali Dal (SAD), Mr Parkash Singh Badal, today formally conveyed to the highest policy-making Political Affairs Committee (PAC) of his party, that the Punjab Government had made all arrangements to book him and other members of his family in a criminal case.


No immediate move to nab Badal: police

Badal convenes meeting

Punjab page: Agitation if Badal is arrested: SAD

Now Hisar girl does a Nisha
Panchkula, June 10
The Sindoor in her hair has not been washed away as yet. But her steely gaze, acquired when she refused to succumb to social pressure and marry with a handsome dowry, speaks volumes about this self-respecting potrait of womanhood.
SC refuses to intervene
June 10, 2003

Cops descend on Talhan
June 9, 2003

Mosque demolished at Advani's instance: accused
June 8, 2003

Talhan, Jalandhar remain tense
June 7, 2003

12 hurt in Jat-Dalit clash
June 6, 2003

88 more die of heatwave
June 5, 2003

Pilot dies in MiG-21 crash
June 4, 2003

World leaders support India on terrorism
June 3, 2003

Bush agrees with PM's peace terms
June 2, 2003

Ties with India tops China agenda
June 1, 2003