THE TRIBUNE MAGAZINES
On alternate Mondays

On Sundays
On Saturdays
IN PASSING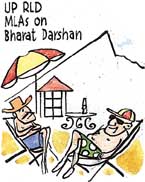 Can't we put off bringing down the Mayawati government for a few days?
by Sandeep Joshi
Punjab page:

Talhan: SAD blames it on admn

Police rough up, abduct Tribune lensman

Talhan violence: SGPC wants govt to quit
Cong sweeps tribal seats
Shimla, June 11
The Congress made a clean sweep of the elections in tribal areas winning all three Assembly seats with impressive margins.
RLD legislators move out of rest house
Shimla, June 11
The 11 Rashtriya Lok Dal legislators who arrived here yesterday have shifted from the PWD rest house here to Hotel Gables in Mashobra about 10 km from here.


Editorial: Bharat Darshan

Badal's kin held in Shimla
Shimla, June 11
In a swift and closely guarded operation a team of the Punjab Vigilance Department arrested Mr Narottam Singh, a nephew of Mr Parkash Singh Badal, former Punjab Chief Minister, from his flat in the suburban locality of Kuftadhar in the wee hours today.

Punjab cops zero in on Badals
Chandigarh/SAS Nagar, June 11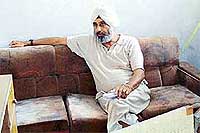 Zeroing in on former Chief Minister Parkash Singh Badal and other members of his family, the Punjab VB today arrested Narottam Singh Dhillon, a cousion of Mr Sukhbir Badal, from an apartment in Shimla.
Mr Narottam Singh Dhillon, cousin of Sukhbir Badal, at the Phase VIII police station in SAS Nagar on Wednesday.
— Tribune photo Manoj Mahajan

Punjab page:

Graft cases: Badal for probe by HC Judge

SAD threat to gherao govt offices

Nation page: Dhindsa apprises PM of Badal's
arrest threat

Pak yet to respond: Advani
June 11, 2003

SC refuses to intervene
June 10, 2003

Cops descend on Talhan
June 9, 2003

Mosque demolished at Advani's instance: accused
June 8, 2003

Talhan, Jalandhar remain tense
June 7, 2003

12 hurt in Jat-Dalit clash
June 6, 2003

88 more die of heatwave
June 5, 2003

Pilot dies in MiG-21 crash
June 4, 2003

World leaders support India on terrorism
June 3, 2003

Bush agrees with PM's peace terms
June 2, 2003