HOROSCOPE
THE TRIBUNE MAGAZINES
On alternate Mondays

On Sundays
On Saturdays
IN PASSING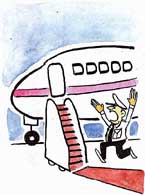 Stop. Mantriji's nephew has not arrived yet!

by Sandeep Joshi
More cops rushed to Talhan
Damdami Taksal activists enter shrine
Talhan (Jalandhar), June 12
Police reinforcements were rushed to curfew-bound Talhan village this evening to secure control of the controversial gurdwara' which was taken over today by activists of the Damdami Taksal. Unconfirmed reports indicated that a group of Damdami Taksal activists were inside the shrine which had been locked from inside.
Govt appoints receiver
Chandigarh, June 12
The Punjab Government will not tolerate any outside interference in running the affairs of Gurdwara Shaheedan at Talhan, the Chief Minister, Capt Amarinder Singh, announced here today, revealing that a receiver had been appointed after the old management of the "disputed gurdwara" handed over its administrative control to the Damdami Taksal.
Ludhiana page: Dalits clash at religious place

PM to visit China from June 22
New Delhi, June 12
Sino-Indian ties are poised for a qualitative jump with Prime Minister Atal Bihari Vajpayee embarking on a six-day official visit to China on June 22. The visit was long overdue, as an Indian Prime Minister is going to China after a gap of almost 10 years.
Another case slapped on Badal's kin
Lambi (Muktsar), June 12
Close on the heels of registration of a criminal case against Mr Narottam Singh Dhillon, a cousin of Mr Sukhbir Badal, at SAS Nagar yesterday, the local police also slapped another criminal case on him on the night of June 11.


Remanded in police custody

Punjab page

Badal's arrest on court's orders: CM

Badal kin's arrest: plea dismissed

SAD (Amritsar) not to support Badal if arrested

2 'skeletons' found, team begins probe
June 12, 2003

Pak yet to respond: Advani
June 11, 2003

SC refuses to intervene
June 10, 2003

Cops descend on Talhan
June 9, 2003

Mosque demolished at Advani's instance: accused
June 8, 2003

Talhan, Jalandhar remain tense
June 7, 2003

12 hurt in Jat-Dalit clash
June 6, 2003

88 more die of heatwave
June 5, 2003

Pilot dies in MiG-21 crash
June 4, 2003

World leaders support India on terrorism
June 3, 2003