The book dwells on almost all aspects of his personality. Raj Kapoor's mother was only 16 and father 18 when he was born — so he could never be in awe of them. Raj was only 22 and already married and father of a son (Randhir) when he met Nargis. He had cast Nargis in his first film Aag, but it was in Barsaat that they seemed to discover each other. After that they became a pair to be watched out for.
On screen their love scenes crackled with an intensity which made for high drama. He even froze the shot where he holds his violin in one hand and his ladylove in the other. This rather imaginative picture became the emblem that adorned all RK Films. When Nargis left him to marry Sunil Dutt, he was heart-broken. However, his involvement with later-day heroines like Padmini and Vyjayantimala too created ripples. But in later life, Raj Kapoor became very close to his wife Krishna. Raj Kapoor was not merely a man, nor merely a film-maker — he was an entire lifestyle. Everything surrounding him was larger than life — his films, his affairs, his affections, his eccentricities, his dreams, even his losses (he never quite recovered from the huge loss incurred by Mera Naam Joker) his parties, his mahurats and Holi revelries. Even his death, when it came, was spectacular. He collapsed during the ceremony when the Dadasaheb Phalke Award was being conferred upon him by the President. His last words as he was being carried on the stretcher were to his wife: "Krishna, I'm going, goodbye, goodbye!"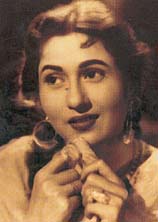 Madhubala — Masti and Magic expectedly brings out the multi-faceted personality of the stunning beauty that Madhubala was. She was rightly referred to as the 'Venus of the Indian screen'. It is more than three decades since the vivacious, sensuous, giggly Madhubala died, but even today, the male libido goes into an overdrive when Madhubala swirls her skirts, flashes that million-watt smile and croons Aaiye meherbaan... on the screen, be it the large screen or the humble TV. Hers was the proverbial rags-to-riches story, a touching tale of love, betrayal and disappointment. While Madhubala's career soared to heights of unprecedented success, the fun-loving actress was unable to marry the man she loved — co-actor Dilip Kumar. When she did succeed in picking up the threads of her life again, to start afresh with another co-star, singer-actor Kishore Kumar, whom she married, a congenital heart disease struck a fatal blow. She was forced to give up the arc lights at a time when the grand opus Mughal-e-Azam saw her reach the zenith of success, the versatile actress got restricted to playing only one role — that of a dying woman. The actress lay in bed for nine long years awaiting her death, which took place a few days after her 36th birthday in 1969.
Madhubala, born as Baby Mumtaz, was barely eight years old when she acted in Basant and 13 when director Kidar Sharma signed her as a heroine for Neel Kamal opposite another new actor Raj Kapoor. Rechristened as Madhubala by Devika Rani, she went on to seduce millions of viewers with her lopsided smile.
However, it was with Mahal opposite Ashok Kumar that Madhubala tasted her first major success as a heroine. The song picturised on her, Ayega, aanewala..., continues to haunt music lovers even half a century later.
Madhubala was just 17 when she acted with Dilip Kumar in Tarana. As the author notes, it is difficult to say whether it was the high-intensity scenes of the film that drew the two together or their budding off-screen love affair that lent their on-screen romance its intensity. However, during the making of Mughal-e-Azam, which took 10 long years, she and Dilip Kumar broke up. The romantic scene in the bower, when Prince Salim strokes Anarkali's face with a feather, to the strains of Bade Ghulam Ali Khan's music in the background, is one of Hindi cinema's most sensuous scenes. But who can tell whether the passion the lead pair were displaying on screen may have been quite contrary to what they had begun feeling in real life.