What's so funny?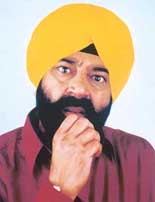 Bhatti: getting it wrong
After you've scaled the Everest then all other roads lead downward. The famous saying aptly describes Jaspal Bhatti. After his brilliant Flop Show that set the standards for comedy on television, it's been a steep and swift downhill descent.
Bhatti's street theatre may still be alive and kicking and drawing instant guffaws for its imaginative themes but it is his plummeting fortunes on the small screen that should be getting him worried. After the path-breaking Ulta Pulta and Flop Show he seems to have lost his comical wit.
Serials like Shahji Ki Advice, Money Plant and the currently on Dhaaba Junction on Sab TV have definitely not done him proud.
In fact, Dhaaba Junction is so inane that it fails to make the grade of a comedy. Fans are now hoping that cameos in forthcoming films like Thoda Tum Badlo Thoda Hum and Kuch Na Kaho will give a much-needed boost to his career.
Fight for the greatest
The fight to elect the greatest Briton of all time begins on BBC World. Each week high-profile presenters spend one hour passionately promoting their chosen Great Briton in the hope of convincing viewers to vote for their choice.
But only one name can come out on top...and there'll be no holds barred as the presenters use their powers of persuasion to the full.
Besides Lady Diana and William Shakespeare, the eleven episodes every Sunday would include all time greatest scientists like Sir Isaac Newton and Charles Darwin; military commander Oliver Cromwell, the most successful British naval chief Sir Horatio Nelson; the war-time Prime Minister Sir Winston Churchill and the slain Beatle John Lennon.
Though episode hosts present their cases with persuasion and gusto, it is the viewers who have to decide who the final winner will be. So take time out every Sunday to select the candidate of your choice who should be the greatest Briton of all times. Who knows, soon there could be a similar programme on Indians as well.
Once is not enough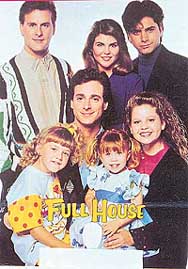 Full House: One good airing deserves another
Will Zee English make up its mind what kind of imaging change it's seeking? Every few months the channel announces a complete make-over with new on-air programming.
But in the past few months, the channel has been showing re-runs of shows like Sienfield, Full House, Fresh Prince of Bel Air and Friends. Even as viewership plummets, anxious channel bosses have once again announced a revamp promising an 'international look' to the channel — whatever that means.
So, while the repeats continue, the channel has added a few more offerings like Will and Grace, Mind of the Married Man, She Spies and Six Feet Under. In a bid to pump up it's market share and give the channel the much-needed viewership boost, it also aired the Miss Universe Contest in Panama City.
But the magic doesn't seem to be working. "You can't expect to hit big time if you are airing shows that went off the air in the west years ago," says a viewer hitting the nail on the head. No matter how attractive the packaging and promos, the channel would have to get quality shows that are both current and relevant.
Unravelling mysteries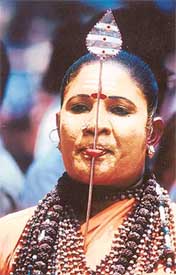 Mysterious India: Arthur C. Clark unravels enigmas.
Indian swamis and gurus hold sway over people by creating startling miracles that leave people awestruck. Yogis can lie on a bed. of nails, walk on burning coals or have trucks driven over their chests or even pierce their tongue with a spear.
For centuries, no one has been able to unravel these puzzles that have caused both wonder and amazement and charmed swarms of foreigners. Now one foreigner is out to uncover the truth behind these death-defying deeds.
Celebrated scientist, author and futurologist Arthur C. Clark explores these phenomenon in Mysterious India, Saturday June 21 at 9 p.m., on Discovery.
Besides visiting godmen and Gurus who perform these miracles. Clark also tries to analyse enigmas like how, a few men can lift a large stone at Shivpuri using only their fingertips. Or why the centuries' old iron of the Ashoka Pillar in Delhi has never rusted. Or how a psychic surgeon in Mumbai cures patients without scalpels or pain.
A fascinating series that may not have all the answers but certainly makes an attempt at finding the answers to these riddles that have tantalised man for so long.
— Mukesh Khosla