Monday, June 16, 2003
Feature
Computing's Everest?
Roopinder Singh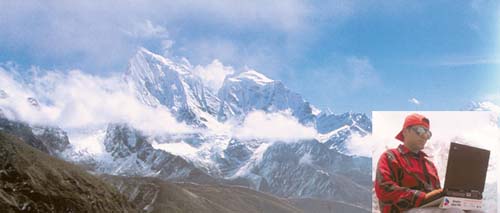 Not that computers of today have become more powerful than computers of yesteryear, the devices have become progressively smaller and lighter, what next? If one of the companies that made all this possible to a large extent has its way, you would set up your computer anywhere and it would find or "sniff" a network and put you on it.
Anywhere? Well, how does Mr Everest grab you? Intel had set up what must be the world's "coolest" cyber caf`E9 at the base camp of the mountain during the recent ceremonies that marked 50 years of the conquest of the world's highest mountain.
Wi-Fi
What made it possible is wireless fidelity or Wi-Fi, a term that is used generically to refer to any product or service using a particular type of radio technology. Wi-Fi networks operate in the unlicensed 2.4 and 5 GHz radio bands, with a data rate of 11 mbps (802.11b) or 54 mbps (802.11a), respectively.
Thus, laptops or personal digital assistants that have been enabled for Wi-Fi can send and receive data wirelessly from any location equipped with Wi-Fi access.
Such a location is called a HotSpot. Access points installed within a HotSpot transmits a radio frequency signal to Wi-Fi enabled devices that are within range of the access point, which is about 300 feet.
HotSpots
The speed of the transmission at any HotSpot is governed by the speed of the pipeline fed into the access point, though it is generally high. There are over 100 such HotSpots in India, according to Paul Otellini, the Chief Operating Officer and President of Intel, basically in hotels and allied industries. Prominent among them are Oberoi hotels in New Delhi, Mumbai, Kolkata, Chennai and Bangalore and the Taj Bengal, Kolkata.
Indian coffee chains are also expected to follow the lead of American giant, Starbucks, and provide Internet access to their Wi-Fi customers in various metros. During a presentation in Mumbai last week, Paul made it clear that India is prominently on the map of the world's largest chipmaker. Intel India was the largest non-manufacturing facility of Intel outside the USA, and it has gained Level 3 CMM certification in quality, which is the highest among all Intel facilities worldwide.
Wi-Fi campuses
Infosys and Wipro have both installed Wi-Fi in their campuses. As Paul said it is definitely cheaper to install Wi-Fi capabilities in a building or an area than to go by conventional wiring systems of any kind. For any kind of executive, the issue is not to be connected to the Internet all time, it is, rather, to have an ability to connect anytime, anywhere, easily.
In order to address the issue of ease of use, manufacturers are now building computer chips with inbuilt networking capabilities Intel has designed its Centrino from the bottom up for mobile users. It will integrate a dual band — 802.11a and 802.11b — wireless connection as a standard part of combined chipset and processor technology.
Security
One of the early concerns of Wi-Fi was security, since radio signals can easily be intercepted. In fact, telephony, whether conventional, cellular or radio, is notoriously prone to interception and the way security is addressed is through encryption and other means, so that even if the interception takes place, the interceptor would not be able to get to see the data. These concerns have been allayed in the accompanying interview of the CEO of Pronto networks, one of the top 25 Wi-Fi companies.
Even if the networks are secure, why would companies want to equip their personnel with notebooks that typically cost much more than desktops? "Because the employees are more productive that way," Otellini would say. They have put their money where their mouth is. In Intel India, 80 per cent of the employees have been given company notebooks! In fact, overall, Intel is itself one of the bigger users of networking, conventional and Wi-Fi, or a mixture of both, because it has offices and personnel all over the world.
Unwired networking
Wi-Fi promises to make unwired networking a reality, and anyone who has struggled with various kinds of adapters and cables will immediately heave a sigh of relief, which might be somewhat premature, given that there are bound to be glitches. A major one that every service provider has a different kind of software pack for you to load. Thus if the next HotSpot that you visit has different service provider that the one you have been using, you have yet another installation before you can use it.
Thus, when we ordered a Wi-Fi connection for our laptop in Mumbai, we had an hour of installation work to do, primarily because the first technician was not competent enough, and eventually he called someone else who was.
The connection, once established was fast, actually blazingly so. The downloads happened in an instant. It was also secure and we did not experience any problems with it. However, one has read about the interference from simple cordless phones, which also use the same kind of radio frequencies.
So is the future unwired? Certainly so, with the usual speed-breakers and glitches that make our computer experience so interesting.