Computing's Everest?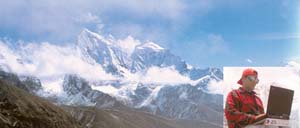 Roopinder Singh
Not that computers of today have become more powerful than computers of yesteryear, the devices have become progressively smaller and lighter, what next? If one of the companies that made all this possible to a large extent has its way, you would set up your computer anywhere and it would find or "sniff" a network and put you on it.
Gliding on IT highway with 64 bit processor
Vibhor Sood
SPEED thrills. That seems to be the deciding factor for most chipmakers. After having conquered the market with 32-bit chips, there is a new number in the hunting for the chipmakers. It is 64 bit .The two giants that are fighting here are Intel and AMD. Though AMD has beaten Intel to be the first one to come out with the 64 bit for desktops yet Intel is also in the run. So what is 64 bit all about?
55 per cent of e-mail is spam
Paul Harris
HUNCHED over his computer keyboard in a London suburb, Steve Linford is fighting a desperate war. The numbers ranged against him are growing and he fears he may be losing. Linford is one of the world's foremost fighters of spam — random e-mails that plague all our inboxes. For persons like him such 'junk' mail is not just a nuisance, it is a menace that could bring the e-mail system to a halt. He thinks we may have only six months left. 'The e-mail system is on the edge of meltdown,' he said.
Silicon's sheen may never return
Lisa Baertlein
SILICON Valley's one-time boomtown capital has a small army of unemployed engineers, caverns of empty office space and a message for potential employers with a bit of wanderlust: Do you know the way to San Jose?
Cellphone industry 'on brink of collapse'
CELLULAR industry is on the brink of financial sickness with the accumulated losses over Rs 7,100 crore mainly due to government's policy of allowing basic operators to offer WLL (mobile) services, says Cellular Operators Association of India.

IT WIT
by Sandeep Joshi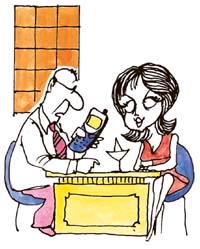 It was a call from my wife. She wants me to MMS her to prove that I am working overtime in the office


Befriend mouse for livestock's sake
Kanwal Singh Bindusar
THE Central Government is poised to unveil its National Livestock Policy to make animal husbandry more lucrative. Even though the government has not given due impetus to this sector yet its contribution to GDP has been showing 6.8 per cent growth rate as against 2 per cent in crop production.


Cyber love fraud that ended in extortion
A former executive of a leading cement company has been arrested for his involvement in a cybersex fraud case, blackmailing an Abu-Dhabi-based construction adviser and cheating him to the tune of Rs 96 lakhs by using fake e-mail addresses.


Pornography made Net successful, says expert
WAR and pornography have played a significant role in the development of information and communication technology, according to an expert. "Both war and porn are manifestation of baser instincts in man and therefore demand a certain degree of perseverance from their patron," Prof Rajesh Kochhar, director of the National Institute of Science Technology and Development Studies, said while delivering a lecture on Information and Communication Technology — Role of War and Pornography.