Monday, June 16, 2003
Feature
Gliding on IT highway with 64 bit processor
Vibhor Sood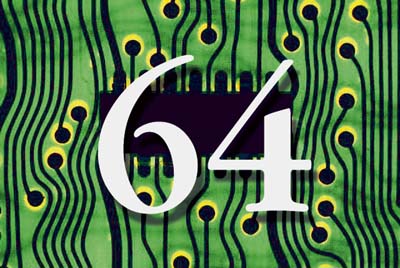 SPEED thrills. That seems to be the deciding factor for most chipmakers. After having conquered the market with 32-bit chips, there is a new number in the hunting for the chipmakers. It is 64 bit .The two giants that are fighting here are Intel and AMD. Though AMD has beaten Intel to be the first one to come out with the 64 bit for desktops yet Intel is also in the run. So what is 64 bit all about?
First thing that comes to mind when we think of 64 bit is double the speed of 32 bit. That holds true in most cases but 64 bit is less about speed and more about the applications that 64 bit will be able to support. One of the main differences between 32 and 64 bit computing is the increase in the range of integers that a processor can work with and henceforth the amount of memory that can be used.
The maximum memory that a 32 bit processor can access is 4 GB. Comparatively, 64 bit chip can access up to 18 exe bytes of memory (1 exe = 1 billion bytes of memory).
This obviously is great news for Window's kernel writer but where does the common user fit into the designs of the 64-bit world. To understand that let us view the application of 64 bit processing in two completely different places:
1) Server: As mentioned earlier 64 bit would increase the memory that an operating system can access .In the server side using a 64 bit processor would allow the server to store a large amount of database in the cache and not having to going to the hard drive for this data. For ex Life Insurance Corporation (LIC) is planning 25 terabyte (1 terabyte =1000 GB) data system to store all the information of its policyholders, while infosys, VSNL, HDFC, ICICI all have requirements ranging from 1-200 terabytes. This would increase the speed of the server computing. There is another use of the 64 bit processing. It lies in cryptography. The basic concept of cryptography implies that the larger the integer the more secure the encrpytion.this allows the 64 bit processor provide for a lot more security than a 32 bit processor.
2) Desktop: In the desktop market there are lots of gamers who are waiting with glee for 64 bit to arrive. Their games require a lot of memory and they are not being able to enhance their games powers because the underlying hardware would then not be cost effective. With AMD coming out with a 64 bit desktop version of their processor called Opetron, the gaming industry is pretty happy.
Vendor & OS support
Most vendors have been happy to launch their 64 bit version for servers only and AMD has shown concern in making the 64 bit desktop variant. Intel on the other hand has said that they might not go in for desktop version of their 64-bit server processor till late this decade. AMD got a huge push for their 64 bit effort when Microsoft recently announced that their Windows operating will be supporting AMD (both server and desktop) version of processors. Windows already supports Intel 64 bit server processor. The other operating system like Linux are also taking to AMD 64 bit desktop version.
32 bit applications
So when I run the applications that were written on a 32 bit processor on a 64 bit will they run? That depends entirely upon the chipmaker, whether he wants too provide backward compatibility or not .AMD, which is coming out with a 64 bit desktop version, is providing this backward compatibility. Rest assured there will be backward compatibility on the Intel chips also because of the huge amount of applications that are currently on Intel's 32 bit processor.