Crime & punishment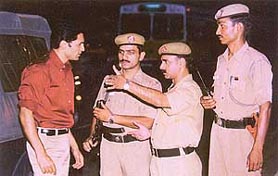 Pundir hosting Crime Patrol: Reality series
This is as close to reality TV as you can get. And with a savvy anchor like Diwakar Pundir, it appears Sony Entertainment Television has a winner at hand.
Crime Patrol, every Friday at 10.30 p.m., is a thriller series taking viewers behind the scenes to witness cops in action. The idea is to portray crime as it happens and the process of police investigations.
Each episode investigates three to four cases ranging from petty crimes to serious felonies and conveys a strong message for the audience — Crime doesn't pay. It also features incidents such as drunken driving and how cops deal with such offences.
Pundir takes viewers along to experience and witness the police in action. The episodes also provide information on police procedures, crime statistics and jargon used while fighting crime.
The only trouble with a series like this is the subject. With cops commonly perceived as the numero uno symbols of corruption and of being hand-in-glove with crooks, it would be hard to project them as heroes. The challenge would be to bridge that credibility gap.
Re-visiting a court jester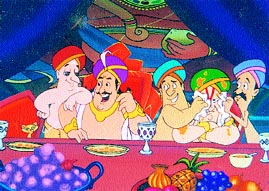 Adventures of Tenali Raman: New series on Cartoon Network
Toonheads can travel back in history to the 16th century splendour of King Krishna Dev Raya's reign and enjoy the witty adventures of his favourite court wit, Tenali Raman.
Produced by Trivandrum-based Toonz Animation Studios, The Adventures Of Tenali Raman on Cartoon Network every Sunday at 2 p.m. revolves around the intellectual court jester of Vijaynagara. Besides being the king's favourite, he is always up for challenges — verbal or otherwise — and one way or the other wins in the end!
Much like the ever-popular Akbar Aur Birbal, here to the King's court is the arena where most of the outrageous battles of wit between Tenali Raman and his main adversary Raja Guru take place. The latter keeps scheming to discredit him in the eyes of the Emperor. How Tenali invariably turns the table on his foe is the theme of each story.
After The Pandavas and Ramayan — The Legend of Prince Ram which soared in the popularity ratings, Cartoon Network is hoping that Tenali Raman too would be able to garner the kind of loyal viewership as the other two locally produced animation series.
So upbeat is the network that it has already signed a pre-buy agreement with Toonz Animation for another series called The Adventures of Hanuman, proving that home-grown animated heroes are here to stay.
Switching roles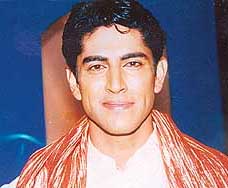 Tarun Khanna in Kabhi Aaye Na Judai: Stirring performance
It happened only on the silver screen when stars went in for an image change — from a hero to a baddie and from villain to comedian. Now the phenomenon has started on the small screen as well. Sameer Bajaj who played a darkly negative role in Kasauti Zindagi Kay is now the chocolate-cream Mihir Virani of Kyunki Saas Bhi Kabhi Bahu Thi.
Following Sameer Bajaj is Tarun Khanna who plays the rich and spoilt brat Sameer Malhotra in Kabhi Na Aaye Judaai on Star Plus and has become the goodie-goodie Aryan in Naam Gum Jaye Ga on Sony Entertainment Television.
"I took up a different role as I want to broaden my range as an actor," says Tarun and adds, "that's the great advantage of television. You can experiment on this medium." Obviously, the star has bigger goals in mind when he talks about experimenting on TV.
Apart from serials, Tarun has done Shweta Shetty's new music album Sajan Bin Dil Na Lage. Film offers are also pouring in but he is currently doing just one — Kyonki Hum Deewane Hai opposite Simone Singh. "I am in no great hurry. I only want to pick up projects of my liking the way Aamir Khan does." Though Aamir may not find the comparison flattering, but the fact is that no one can doubt the spirit of the young star.
Fishing for livelihood
Whether using the Internet or medical diagnosis in rural India or selling local handicrafts online, technology has a huge part to play in empowering people around the world.
CNN's Global Challenges travels to India, India Hong Kong and Alaska every Sunday at 6 p.m. for its sustainable development series that brings features focusing on areas such as environment, communications, education, health, poverty and agriculture. It reveals how science and technology help to improve the quality of life for people worldwide.
Take for example, Kolkata. A remarkable transformation is taking place in this overcrowded city where the waste water, combined with bacteria, algae and abundant sunshine is creating large sparkling ponds where fish thrive. These ponds have become a source of earning for a number of people.
In what correspondent Satinder Bindra describes as one of the most amazing stories he's ever shot, viewers see how one of the local fishermen is helping to feed the hungry and provide livelihood in conditions that could be emulated in other parts of the world. A sustainable idea on a path-breaking show.
Mystic India
India is a land of many colours, cultures, folktales and pilgrimages. That, in essence, is what the new series Discover India tries to capture. Most episodes in this series take a peek into some fascinating facets, which have integrated in a manner to have become a way of life for Indians.
In Mystic Lands: Varanasi - City of Light, on May 31 at 9 p.m., the programme explores this holy city along the Ganges. Legend has it that Lord Shiva created Varanasi or Kashi, as it was earlier known, from a drop of the Ganges water.
The sounds of the gurgling Ganges and the chants of Om Namah Shiva greet you as you enter the city. Hindus believe that to die here is to escape the cycle of reincarnation.
Following Varanasi is another fascinating show titled Sacred Flamingoes of Lake Bahmkhe at 9.30 p.m. According to folklore, eons ago a beautiful Rabari princess Nira changed into a flamingo to escape the evil designs of the King of Jaisalmer. Ever since then there have been very special ties between the sacred flamingoes and the Rabaris.
Don't miss this exotic series that showcases not the everyday India but an India which is not often talked about.
— Mukesh Khosla