Thursday, July 3, 2003, Chandigarh, India



S P O R T S
All eyes on Henman as Beckham mania subsides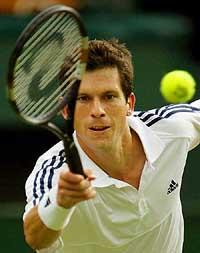 London, July 2
Tim Henman was today in the unusual position of outshining England football captain David Beckham, as millions of Britons gathered round their television sets for the home hope's Wimbledon quarter final against Sebastien Grosjean.
Britain's Tim Henman returns to France's Sebastien Grosjean during their quarterfinal match at the Wimbledon Tennis championships in London on Wednesday. — Reuters photo

Paes-Rikl duo in semis
London, July 2
The Indo-Czech pair of Leander Paes and David Rikl beat the Bryan brothers in four sets to move into the semifinals of the men's doubles event at the Wimbledon Tennis Championship here today.
Cream of Belgium in way of Williams' show
London, July 2
The cream of Belgium stands in the way of another Williams show at Wimbledon as defending champion Serena Williams prepares to see off Justine Henin-Hardenne and former winner Venus sets out to end the campaign of Kim Clijsters.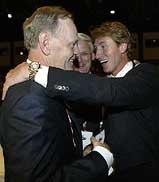 Canadian Prime Minister Jean Chretien (L) being hugged by ice-hockey legend Wayne Gretzky after the city of Vancouver won the bid to host the 2010 Winter Olympic Games on Wednesday. Vacouver won with 56 votes against 53 votes for PyeongChanp in the second round of balloting at an IOC meeting in Prague. — Reuters

Serena, Venus battle into semis
July 2, 2003

Venus, Serena storm into last eight


July 1, 2003
India beat Spain, win hockey title
June 30, 2003
Sharapova leads Russian charge
June 29, 2003
Roddick, Clijsters, Davenport win
June 28, 2003
Capriati, Pierce sail through
June 27, 2003

Venus, Davenport in third round
June 26, 2003
Serena powers into second round
June 25, 2003
Hewitt stunned in opening round
June 24, 2003
Agassi, Hewitt set for battle of ages
June 23, 2003