Advani's support to Badal 'motivated'
Amritsar, July 5
Prof Darbari Lal, Education Minister of Punjab, described the statement of Mr L.K. Advani, Deputy Prime Minister, supporting Mr Parkash Singh Badal, president of the Shiromani Akali Dal as "politically motivated".
Guru's descendants refuse to give manuscripts
Ropar, July 5
A three-member team of the SGPC, including jathedar of Takht Kesgarh Sahib, Gaini Tarlochan Singh, SGPC member from Anandpur Sahib Jarnail Singh Aulakh and SGPC member from Ropar Pritam Singh Salomajra, failed to persuade the descendants of Guru Tegh Bahadur to hand them over some important historical documents.
Badungar rules out his replacement
Jalandhar, July 5
The Shiromani Gurdwara Prabandhak Committee chief, Mr Kirpal Singh Badungar, today dismissed reports that there was a move to replace him with Mr Gurcharan Singh Tohra, saying he had not received any such directive from former Chief Minister Parkash Singh Badal.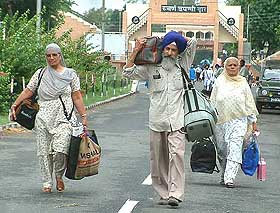 Pak agrees to reconstitute PSGPC
Wagah, July 5
Senior officials of Pakistan Evacuee Property Trust Board have agreed in principle to reconstitute the four-year-old Pakistan Sikh Gurdwara Prabandhak Committee (PSGPC) with a view to establishing the supremacy of the SGPC.
A jatha returns from a visit to Pakistan in connection with the death anniversary of Maharaja Ranjit Singh, at the Wagah check post on Saturday.
— Photo Rajiv Sharma

DSP among 13 booked for custodial death
Amritsar, July 5
DSP, Gangial (Jammu) is among 13 police officials from Jammu who have been booked by the Amritsar police for allegedly torturing to death a Dalit rickshaw-puller, Mohan Lal, during illegal confinement.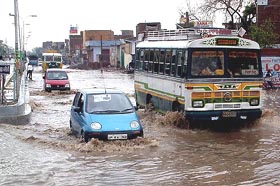 TRIBUNE SURVEY-II
Review of flood control after July 10
Chandigarh, July 5
The Punjab Irrigation Department will review flood control measures after the Meteorology Department gives its final assessment of monsoon on July 10. On June 30 the water level was 120 to 124 per cent above mean in various reservoirs, including the Bhakra and the Pong Dam.

A few hours of normal rain flooded a major part of Bathinda on Saturday. — Photo Kulbir Beera
Reinforcing Dhussi bundh

Ghaggar still untamed
Another claimant of sarpanches' support
SAS Nagar, July 5
It cannot get worse than this for the Congress in Kharar. The latest to join in the tussle between Ms Lakhwinder Kaur Garcha and Mr Bir Devinder Singh, both claiming the support of winning sarpanches, is Mr Balbir Singh Sidhu, another Congress leader from the area.
6 sarpanches, 84 panches honoured
Tarn Taran, July 5
Six sarpanches and 84 members of panchayats belonging to the Lok Bhalai Party and seven others who had won election for the post sarpanch with the support of the Lok Bhalai Party were honoured today at a function organised here by Mr Amrik Singh Varpal general secretary of the state unit of the party.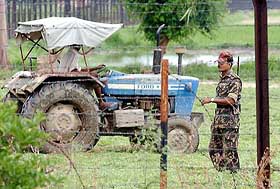 A farmer works in his field while an Army personnel stands guard near the Wagha border on Friday.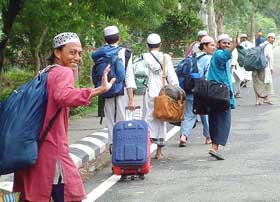 Members of a Malaysian delegation wave before crossing the Wagha check post on Saturday. The delegation is on a world tour for peace. — PTI photos
Move to revamp Police Act
Chandigarh, July 5
The 1861 Police Act, one of several legal legacies of the British is all set for a total revamp. Setting up of the state Security Commission for the superintendence of police, fixing three-year term for the DGP and Police Commissionerates for all important districts of Punjab have been proposed in the new legislation, which subject to approval by the state Council of Ministers, will be placed before the Vidhan Sabha in its next session.
Murder suspects not being shielded: SSP
Hoshiarpur, July 5
Ms Gurpreet Deo, SSP, in a press conference here today said the rumour that the police was shielding the accused in the murder case of Ramtirath Kaur of Daduwal village was false.
Water supply plan 'being sent to' World Bank
Phagwara, July 5
A master plan was being sent to the World Bank pertaining to water supply and sewerage for 13 cities with over one lakh population each, according to Mr Jasbir Singh Dimpa, Chairman of the Punjab Water Supply and Sewerage Board.
Revenue records to be computerised
Kapurthala, July 5
Rana Gurjit Singh, a local Congress MLA, has announced that a project has been approved by the Punjab Government to computerise the entire revenue record of the district.
Pilgrims' kin get Rs 18 lakh relief
Amritsar, July 5
Choudhry Jagjit Singh, Local Bodies Minister, today gave Rs 18 lakh as compensation to the relatives of the Sikh pilgrims who had died and to those who had got injured in the Uttar Pradesh tragedy last year.
Gurdaspur honours Prabodh Chander
Chandigarh, July 5
The Gurdaspur Municipal Committee has passed a resolution to name certain part of the town as " Swatantarta Sangrami Prabodh Chander Nagar."
CRPF security to Punjab CM restored
Chandigarh, July 5
The CRPF security cover provided to the Punjab Chief Minister, Capt Amarinder Singh, has been "restored" after protests from the Home Department of the State government over the " unilateral withdrawal" of the only battalion of the force from the state a few days ago.


Train passengers robbed
Bathinda, July 5
Passengers of the Kalka-Jodhpur Express were looted of cash and jewellery by unidentified persons late last night near Guru Sar Sainiwala village when it was approaching Bathinda Railway station.
Man posing as SGPC official held
Talwandi Sabo (Bathinda), July 5
The district police has arrested Labh Singh, a granthi of gurdwara of Singo village, for impersonating as the Additional Secretary of the Shiromani Gurdwara Parbhandak Committee (SGPC) and for befooling people on the pretext of providing jobs or financial help from the SGPC.
LPG racket: 600 cylinders seized
Patiala, July 5
The Food and Supplies Department seized 600 cylinders from two trucks exposing a racket by an LPG agency of Dirba in Sangrur district involving transfer of cooling gas to empty cylinders.
Four held for 'manhandling' Dalit sarpanch
Hoshiarpur, July 5
A case under Sections 341, 506, IPC and under Section 3 of the SC and ST Prevention of Atrocities Act 1989 has been registered in Hariana Police Station against four persons, Kultar Singh, Surinder Singh, alias Shinda, Joginder Singh, alias Ginda and Harkamal Singh of Pandori Khajoor village on a complaint by Ms Charan Kaur, new Sarpanch of the village.
Man charged with bigamy
Phagwara, July 5
On a complaint of Ms Simar Kaur, 10 persons, including her husband, Ram Murti of Chak Dhade village, were charged under Sections 420, 406, 494 and 120-B of the IPC with fraud and criminal breach of trust. The husband also faces a bigamy charge.
Cop booked for rape
Amritsar, July 5
Inderjit Singh, a constable posted at Amritsar has been booked allegedly for raping a minor for last few years. The Lopoke police under the Majitha police district has registered a case under Section 176 of the IPC in this regard.
Fake currency: 2 get 10-yr RI
Jalandhar, July 5
Two persons, accused in a fake currency note scam, have been sentenced to rigorous imprisonment for 10 years by Mr Bhupinder Singh Sidhu, Additional Sessions Judge, of the local fast-track court.
HP resident dies in road mishap
Kharar, July 5
Gurmukh Singh, a resident of Himachal was killed and four others were injured when the car in which they were travelling collided with a Himachal Roadways bus on the Kharar-Ropar road near bus stand here.


GND varsity action against 12 students
Amritsar, July 5
Guru Nanak Dev University today debarred 12 students from taking examinations for five years following their indictment by the Unfair Means Cases Committee. They were charged of impersonation during the recently concluded joint test for B.Ed.
B.Ed counselling on July 30
Amritsar, July 5
Guru Nanak Dev University will hold counselling for admission to B.Ed course in education colleges of Punjab and Chandigarh on July 30. This was stated in a press note here today.
Defamation suit against VC
Patiala, July 5
A former Punjabi University Registrar, Dr Karamjit Singh Sidhu, today filed a defamation suit against Vice-Chancellor Swarn Singh Boparai, claiming that the Vice-Chancellor had made unjustified imputations against him on official files which had harmed his reputation.
Unemployed ITI instructor's threat
Gurdaspur, July 5
Members of the unemployed ITI Instructors Union Punjab, have threatened to intensify their agitation if the posts of instructor in various ITIs in the state are not filled immediately.