M A I N N E W S
Amarnath pilgrims begin journey
Jammu, July 9
The first batch of 3,061 pilgrims left here early today for the cave shrine of Amarnath amidst tight security.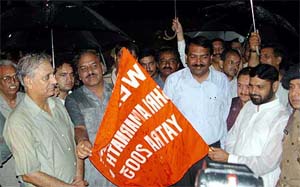 Jammu and Kashmir Minister for Roads and Bridges Madan Lal Sharma flags off the Amarnath Yatra at Maulana Azad Stadium in Jammu on Wednesday. — PTI photo

Comprising 2,377 men, 394 women, 59 children and 231 sadhus, the first batch left from the main lodging centre of Maulana Azad Stadium (MAS) here around 6 am despite a drizzle.
Chanting slogans "bham bham bhole and jai baba barfani", the pilgrims left in a fleet of 177 vehicles, including 56 buses and 115 light motor vehicles.
They were escorted by the CRPF troops and the state police contingents, officials said, adding that no vehicle carrying Amarnath pilgrims would be allowed to proceed separately for security reasons.
The route from Jammu to Banihal and onwards to the base camp at Nunwan in Pahalgam had been sanitised, officials said, adding that security forces had also been put on alert around the main highway to foil any attempts at mischief.
Security operations are also going on in the higher reaches to track down the ultras who might make forays to disturb the yatra, officials said.
Earlier, there was chaos as hundreds of devotees clashed with the local administration over permission to embark from here for the annual pilgrimage.
The situation which was marked by altercation with Shiv Sainiks arose as only those pilgrims were allowed to be part of the first jatha whose allotted date of 'darshan' is July 12. However, those with registration cards for later dates have also converged in Jammu.
"We are yatris, not terrorists, and will proceed for Pahalgam (base camp) in accordance with our plans," chief of the Shiv Sena, Punjab, Mr Vijay Kapoor, said.
Tempers ran high as the Kapoor party had sponsored pilgrimage for around a 1000 devotees in over a dozen buses.
SRINAGAR: The first batch of the Yatris for the holy cave shrine of Amarnath arrived in Pahalgam in south Kashmir from Jammu this evening. The month-long pilgrimage, beginning on July 12, will conclude on August 12. — PTI & TNS