AGRICULTURE
EDUCATION
HEALTH
SCIENCE & TECHNOLOGY
CAREER GUIDE
SPORTS
HER WORLD
TRIBUNE CLASSIFIEDS
In video
(28k, 56k)


Mr Pranab Mukherjee and Dr Manmohan Singh discuss a point with Mrs Sonia Gandhi at the Vichar Manthan Convention in Shimla on Wednesday.
— Tribune photo Karam Singh
Sinha rules out early Indo-Pak summit


New Delhi, July 9
Ruling out an early Indo-Pak summit meeting, India today asserted that while it was not shying away from discussing the Kashmir issue, Pakistan should emulate the Sino-Indian model of not allowing one single issue to hold "hostage" progress in all other issues.
Sibal rules out talks, but Riaz says he's ready
(World page)

Decision on Iraq troops not to hit ties: Blackwill
New Delhi, July 9
The USA says its relation with India is not going to be affected, even if New Delhi decides to stay away from the stabilisation process in Iraq.
In Science & Technology today
HOROSCOPE
THE TRIBUNE MAGAZINES
On alternate Mondays

On Sundays
On Saturdays
IN PASSING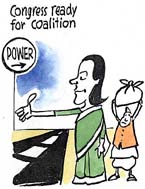 Lift Please !

by Sandeep Joshi

PM calls for culture of dialogue
New Delhi, July 9
In an obvious reference to burning issues confronting the nation, Prime Minister Atal Bihari Vajpayee today stressed the need for a 'culture of dialogue' at the national-level to amicably resolve contentious issues.
Best Bakery case: Amnesty for fresh trial
New Delhi, July 9
Expressing concern over the acquittal of the 21 accused in the Best Bakery case, Amnesty International today said the acquittal had "confirmed its worst fears about the lack of government commitment to ensure justice to the victims of communal violence in Gujarat" and demanded a fresh trial of the case.
Centre's clean chit to Advani, Joshi in Ayodhya case

PM won't quit, BJP tells Singhal
Amarnath pilgrims begin journey
Jammu, July 9
The first batch of 3,061 pilgrims left here early today for the cave shrine of Amarnath amidst tight security. Comprising 2,377 men, 394 women, 59 children and 231 sadhus, the first batch left from the main lodging centre of Maulana Azad Stadium here around 6 am despite a drizzle.
Widespread rain in North
Chandigarh, July 9
Chandigarh and satellite towns of Mohali (Punjab) and Panchkula (Haryana) had heavy rain (33mm in less than two hours) throwing life out of gear.





Nation page Near-normal monsoon this year
Heavy showers converted roads into streams with waves lapping against the vehicles in Chandigarh on Wednesday.
— Tribune photo Manoj Mahajan


85 pc blood not screened for HIV: survey
Amritsar July 9
The Punjab State AIDS Control Society has sought a report about the clandestine activities of certain blood banks and nursing homes from various heads, Department of Transfusion Medicines, would have been collecting blood from 'regular professional blood donors' like rickshaw pullers, the unemployed and drug addicts.
Cong for quota in private sector
July 9, 2003
Cong ready for poll: Sonia
July 8, 2003
Muslim board rejects formula
July 7, 2003
Give Ayodhya, Mathura, Kashi to Hindus: RSS
July 6, 2003
J&K minister hurt in attack
July 5, 2003
Advani blasts Amarinder
July 4, 2003
18 killed as Golconda Express derails
July 3, 2003
'Someone blocking defence procurement'
July 2, 2003
Pak envoy arrives
July 1, 2003
Two die in poll violence
June 30, 2003