"Filmmaking is like a fever"
V. Gangadhar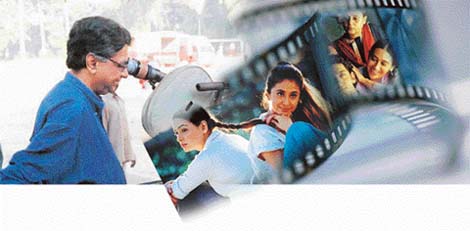 MOST of the students in the journalism schools I teach in Mumbai want to write like Khalid Mohamed. He is the most discussed film critic-cum-writer among the students. How did he acquire this style? Why is he cynical? Isn't he a bit like Mr Jingle in Pickwick Papers? These are some of the questions I had to handle.
Tehzeeb: Khalid Mohamed's Take Two
AFTER Fiza, pen-patriarch Khalid Mohamed wields the baton yet again for Tehzeeb, a mother-daughter conflict-cum-confrontation drama starring Shabana Azmi and Urmila Matondkar.


Cross border match-fixing
A Chandigarh girl finds marital happiness in Pakistan
Harbans Singh Virdi
AFTER having checked into a room at the Panja Sahib Gurdwara in Hassan Abdal, a good six-hour drive from Lahore on the famous motorway, I straightway headed for the langar hall like other Sikh pilgrims to refresh myself with a cup of tea before entering the diwan hall, where kirtan was being performed by Sindhi raagis.
Why do we grow old?
Mohinder S. Walia
AGEING is a continuous process. It begins at the moment of birth and continues through all stages all development. We grow from infancy to childhood, gaining our independence and learning to control our bodies. We move from childhood to adolescence, during which we become sexually mature and physically most fit.
CHIEF'S DIARY
Providing power & prosperity
Narinder Sharma
PROVIDER of power and water. A home for over 1 lakh migratory birds and thousands of fish and a tourist destination too. This is Beas dam or the Pong Dam, as it is popularly known. Located on the Punjab and Himachal Pradesh border with its waters extending up to Dehra in Kangra, it is a one-stop destination in the region.