No doubt kahani mein twist hai. But there's no guarantee the twist will work again and again. Judge for yourself!
Aanchal's starry dreams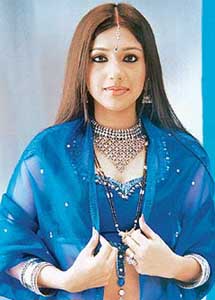 Aanchal in Kabhi Aaye Na Judaai
She is the new dream bahu of every saasoo-ma and the ideal daughter of all mothers. Aanchal Anand, the loving and caring Kanya Malhotra of Kabhi Aaye Na Judaai on Star Plus is one of the most-talked about ladies on the small screen thanks to her portrayal of a docile and submissive Bhartiya nari.
"I am very lucky to be a part of this serial," says an upbeat Ananchal who got this big break after doing bit roles in Kuch Jukhi Palken and Devi. With no training in acting and just a few ads in her kitty, Aanchal's spontaneity made her the natural choice for the role.
"It helps if you don't have any formal training. Then you are spontaneous," says the young actress who has become a role model for many. Offers have been pouring in but she says she's in no hurry to pick up any role that's offered to her.
What she's looking for is something different. "I don't want to repeat Kanya Malhotra in Kabhi Aaye Na Judaai. There would be no challenge in that," says the young bundle of energy whose role model is Kajol. "I'll strive to be like her when I start looking around for roles on the big screen." Are Bollywood producers listening?
Cutting edge of censorship
Do channels ensure that basic standards of decency and morality? Is there a restriction on the kind of stuff they dole out? Or is tellyland at liberty to show whatever it fancies?
These and many more questions are being asked by media watchers even as videos like Kaanta Laga and Chadti Jawani rotate heavily on music channels.
Now Asha Parekh, the former chairman of the Censor Board has added weight to the section of people who want such videos banned. She is convinced that television needs a strict policing machinery.
"I don't mean that women should be portrayed as sati-savitris but there should be some yardstick for decency. After all television is viewed by the whole family," says Asha Parekh whose new serial Kucchh Pal Saath Tumhara is notching up decent TRPs on Sahara Manoranjan every Friday at 10.30 p.m.
However, the more liberal viewers say that censorship should rest with the viewer. And that it is for the viewer to decide, what to see and what not to see. It just takes the click of the remote to make censorship happen. Keep tuned. That's not the last you've heard on the controversy.
Inside the axis of evil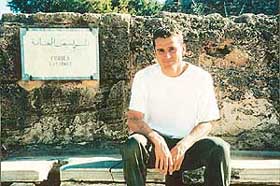 Anderson in the US-perceived rogue states:
Risky travels
An year ago, President Bush named the world's six most evil countries, labelling them an 'axis of evil'. Iraq, Iran, North Korea, Syria, Libya and Cuba stood accused by the US of harbouring terrorists and attempting to build or acquire weapons of mass destruction.
In Holidays In The Axis Of Evil every Sunday on BBC World at 8.40 p.m. reporter Ben Anderson goes undercover as a tourist to these countries in an attempt to find out what the locals feel about being branded as 'evil'.
In North Korea President Bush has pushed anti-US sentiment to new heights and the country has resumed its nuclear programme. This is the first stop on Anderson's itinerary and the government-run tourist agency will not let him go anywhere on his own.
The Libyans long ago gave up on being able to do anything about either Gaddafi or America. Anderson discovers that they now prefer to watch European football and pirate Western movies. In Iraq Anderson is arrested as a spy, interrogated for seven days, and his tapes and tourist visa confiscated.
The British-educated Syrian President Assad came to power with the promise of 'opening up' the country. He started well but soon imposed restrictions. Fidel Castro's Cuba is the most liberal. Anderson can travel as he pleases, stay with ordinary families and people talk freely. As long as he has dollars to spend he is welcome everywhere. All of which makes it a fascinating 3-part travel show with a difference.
Charming sisters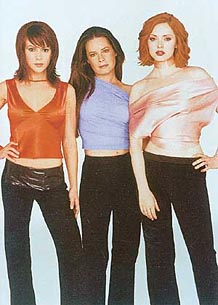 The 'charmed' sisters:
Supernatural drama
There's magic, mayhem, music and motherhood as the new season of Charmed begins on Star World every Wednesday at 8.00 p.m.
A supernatural one-hour drama, it chronicles conflicts and love among sisters and their need to come together to fulfil an ancient witchcraft prophesy.
Though bound together by blood and destiny the Haliwell sisters have always been different not just from the world around them, but also from each other. Yet, the discovery that the three of them are powerful good witches creates a strong bond and they keep their witchcraft a secret.
Each sister has her own unique set of powers. One has premonitions and has been perfecting her ability to levitate, while the other can freeze time and cause explosions. The third has the power to move things with her mind that she uses to battle against evil.
In keeping with the musical tradition of the series, the line up of guest stars includes The Flaming Lips, Michelle Branch, Beth Orton and Pat Benatar making the show as absorbing as Sabrina, the Teenage Witch.
— Mukesh Khosla