Monday, July 14, 2003, Chandigarh, India


J A M M U & K A S H M I R
Show of strength on martyrs' day
Srinagar, July 13
A large number of people thronged the martyrs' graveyard at the shrine of Khwaja Naqshbandh Sahib here today as leaders of different mainstream political parties paid homage to the martyrs, who sacrificed their lives on this day in 1931.
Hurriyat strike affects life
In video (28k, 56k)


National Conference supporters head towards the martyrs' graveyard in Srinagar on Sunday.
— PTI photo
6 ultras among 13 killed in valley
Srinagar, July 13
Thirteen persons, including six militants and two policemen, were killed and a Constable was injured in separate incidents in Jammu and Kashmir where an injured ultra and 14 ex-filtrating Myanmarese were also nabbed since last night, an official spokesman said here today.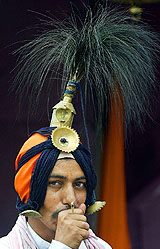 An Amarnath-bound sadhu, also known as Jangam, in a traditional head gear adorned with peacock feathers, smokes in a temple compound in Jammu on Sunday. — Reuters