Police remand for Sapra's wife
Chandigarh, July 13
A local court today remanded Dr Swapna Singh in two-day police custody on the charge of killing her husband, Mandiv Sapra, executive director of the Delhi-based Group 4 Securities Guarding, in a city hotel on Saturday.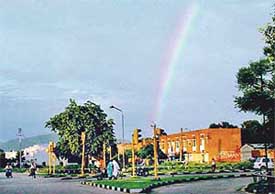 The "Divine painter" chose the Chandigarh sky as his canvas to create an artwork on Sunday.
— Photo Karam Singh
Power board, HUDA lock horns over electrification plan
Panchkula, July 13
The Uttar Haryana Bijli Vitran Nigam (UHBVN) and Haryana Urban Development Authority (HUDA) have locked horns over the electrification plan for the city's main commercial centre, City Centre, in Sector 5.
Vajpayee unrivalled leader of BJP: Naidu
Chandigarh, July 13
Mr M. Venkaiah Naidu, National President of the Bharatiya Janata Party, today sought to lay at rest the controversy over his recent remarks about Mr Atal Bihari Vajpayee and Mr L.K. Advani jointly leading the party into the next parliamentary elections by declaring that the Prime Minister was the only leader acceptable both within and outside the party.
Venkaiah flays Cong on alliance issue
Chandigarh, July 13
BJP President M. Venkaiah Naidu here today ridiculed the Congress for offering alliances to other parties. He also hinted at party's inclination towards holding simultaneous elections to the Lok Sabha and the state assemblies.
It was one unseemly controversy which the Bharatiya Janata Party could have avoided at any cost. Contradictory statements were issued by the Union Minister of State for Home Affairs, Mr I.D. Swami, and the Chandigarh Administration on the issue of demolitions in slums and urban areas of Chandigarh. The minister when he came to Chandigarh earlier this week announced that there would be no demolition of slums or of any construction being carried out in urban areas.