Partap Singh seeks CBI probe into FCI scam
Rohtak, July 17
Haryana Chief Minister Om Prakash Chautala's estranged brother and former MLA Pratap Singh has demanded a CBI inquiry into the scandal involving the withdrawal of Rs 64 lakh from Food Corporation of India's Sirsa branch.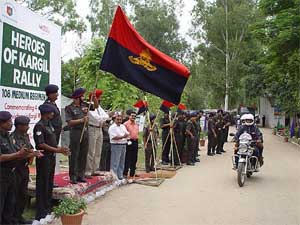 Army men set out on motorcycle rally
Ambala, July 17
To mark the victory of Kargil war and as a tribute to those who made the supreme sacrifice during Operation Vijay, an Army motorcycle rally was flagged off from here this morning. The rally is being organised by 108 Medium Regiment.
Brig K. S. Sethi flags off an Army motorcycle rally in Ambala Cantonment on Thursday.
— Photo Neeraj Chopra

CBI chief recalls Ambala days
Ambala, July 17
The Central Bureau of Investigation Director, Mr Prem Chand Sharma, hails from a village in Ambala. Talking to Chandigarh Tribune on Wednesday , Mr Sharma said he hailed from Fatehgarh village in Ambala.
Give incentives to rice mills, says Hooda
Chandigarh, July 17
The Leader of the Opposition in the Haryana Assembly, Mr Bhupinder Singh Hooda, has expressed concern over the shifting of certain rice mills from the state to Punjab and other neighbouring states.
High Court: Notice issued in cable network case
Evening classes in RKSD college
Kaithal, July 17
The local RKSD Post-Graduate College has been granted sanction to start evening classes by Kurukshetra University from the current academic session.
Date extended
Chandigarh, July 17
The Central Haj Committee, Mumbai, has extended the last date for inviting applications for Haj pilgrimage, 2004, from July 15 to July 25.
Rapist gets 7-yr jail term
Hisar, July 17
The Additional District and Sessions Judge, Mr Satish Ahlawat, yesterday sentenced a youth to seven years' imprisonment and imposed a fine of Rs 2,000 on him for kidnapping and raping a minor.
Poppy-husk trafficker jailed
Fatehabad, July 17
The District and Sessions Judge, Mr R.K. Sondhi, yesterday sentenced a poppy-husk trafficker to 10 years rigorous imprisonment and a fine of Rs 1 lakh. Rishi Paul, a resident of Larsia in Uttar Pradesh, was arrested near Bahmanwala village in this district on November 5, 1997 with 78 bags of poppy husk.
Youth on parole killed
Fatehabad, July 17
A youth, who had come to his village on parole, was gunned down yesterday afternoon at Bangaon village in this district.