AGRICULTURE
EDUCATION
HEALTH
SCIENCE & TECHNOLOGY
CAREER GUIDE
SPORTS
HER WORLD
TRIBUNE CLASSIFIEDS
HOROSCOPE
Undue criticism spoils atmosphere: PM
Raipur, July 19
Prime Minister Atal Bihari Vajpayee today strongly supported the path of negotiation for resolving the contentious Ayodhya issue and welcomed "constructive comments" but took strong exceptions to "unnecessarily blaming" each other, which spoils the atmosphere.
Opposition leader's daughter joins Congress

Fan falls in PM's guest house

Kelly's wrist was slashed
Let probe establish facts: Blair
Southmoor (England), July 19
Weapons expert David Kelly apparently killed himself by slashing his left wrist, the police confirmed today. The police said they had found a knife and some pain-killers near Kelly's body, which was found from near a rural wood a day earlier.
Rahman asks USA to stop brute force
New Delhi, July 19
Pakistan firebrand clergy-politician Maulana Fazal-ur-Rahman has blamed the USA for the anti-American sentiments in the Muslim world and advised Washington to change its policy of using the military option to resolve a crisis at the drop of a hat.
THE TRIBUNE MAGAZINES
On alternate Mondays

On Sundays
On Saturdays
IN PASSING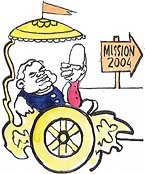 There is no need to go to Delhi via Ayodhya!

by Sandeep Joshi
Nation page: Hurriyat to hold talks with Kashmir panel

Noor to be out of intensive care in 2 days
Bangalore, July 19
Pakistani child Noor Fatima is recovering well and is likely to be moved to her ward within the next two days.
Punjab page: Bus service brings tears of joy


| | |
| --- | --- |
| | Pakistani child Noor Fatima lies on a hospital stretcher in Bangalore on Saturday. Noor had a successful heart operation earlier in the week in Bangalore after travelling with her parents on the newly resumed bus service between India and Pakistan on July 11. — Reuters photo |
British couple fools security forces
Wagah, (Amritsar), July 19
Many eyebrows were raised as a British couple in their Toyota car gave the slip to security agencies manning the Indo-Pakistan international park at noon today.
Steam engine to be back on Kalka track
Shimla, July 19
The vintage steam engine will be back on the Shimla-Kalka narrow gauge after three decades as a tourist attraction from November when the track completes 100 years.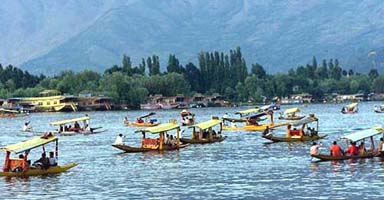 Tourists enjoy Shikara ride in Kashmir's Dal Lake in Srinagar on Friday. Thousands of tourists have thronged Kashmir this summer, encouraged by the recent peace overtures by India and Pakistan.
— Reuters

Ravi Inder floats new Akali Dal
Jalandhar, July 19
Different constituents of the Panthic Morcha today merged to form new "Akali Dal", to be headed by former Punjab Vidhan Sabha Speaker Ravi Inder Singh and based on principles of the Shiromani Akali Dal formed in 1920.
In Her World today
BJP targets Sonia's foreign origin
July 19, 2003
BJP to mend fences with VHP
July 18, 2003
150 feared washed away in Kulu cloudburst
July 17, 2003
MiG-21 explodes
July 16, 2003
No Indian troops for Iraq
July 15, 2003
Musharraf has vested interest in instability: Gujral
July 14, 2003
India rejects Pak terms for resuming air links
July 13, 2003
Peace journey begins
July 12, 2003
VP Singh: Bajrang Dal, RSS following ISI agenda
July 11, 2003
Cong open to pacts with secular parties
July 10, 2003