Things start getting uneasy when Sureel and his band fall out and his girlfriend dumps him to follow the band. Soon he finds himself falling for a beautiful Indian dancer, Maya (Sheetal Sheth). They inspire each other and Sureel gets in touch with his roots. Now, Sureel's roommate Toby (Josh Ackerman) wishes to start a new band with him.
Love-smitten and optimistic, Sureel wishes to spill the beans to his parents. Will he face the music and discover his identity? This is the crux of American Chai.
Director's special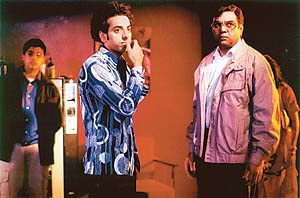 Aalok Mehta (left) and Paresh Rawal in
American Chai
On his multiple award-winning film, Anurag Mehta says, 'It is a love story. It is a story about following your dreams ... about the relationship between the newer and the older generations, and ultimately it is the story of a father and son.' On selecting his real-life musician-brother for the protagonist's role, Mehta says, 'Aalok has been a musician, a performer at heart, so he seemed apt for the role.'
Incidentally, Aalok has also written and enacted the songs in the film and contributed to the score along with Jack Bowden Faulkner
About Paresh Rawal, who plays the authoritative parent, Mehta says, 'He adds weight to so many of the scenes. He is a brilliant actor, and his energy permeates and rubs off on the rest of the team.'
Celebrating the melting pot
The high points of the movie are the cultural differences. Mehta makes satirical jabs at Bollywood musicals to put across his point good-humouredly.
A critic has summed up the film in the following words, 'Humorous and heartfelt, this winning debut feature not only extols the old fashioned American dream, but celebrates the virtues of the great American melting pot as well.'
And Mehta adds, 'Yes, the main characters are Indian, but that's more of a character-defining element in this movie. The story is not about being Indian. It's about being American.' LMN