All for a song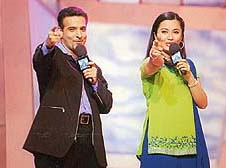 Bahal & Nausheen in Kucch Kar Dikhana Hai: New look
Thereís no denying the fact that for the last two years Star Plus has been setting the trends in TV programming. First came the saas-bahu soaps that were immediately cloned by other channels. Then arrived Kaun Banega Crorepati which not just created history on the small screen but rewrote the way TV game shows would be made in the future.
However, Star Plus has not had similar luck in musicals. Shows like Kya Masti Kya Dhoom hosted by Sonali Bendre and Kisme Kitna Hai Dum with Sonu Nigam and Gul Panag have been nowhere near the heady success of either KBC or the mushy soap.
Now it seems the channel is making an all-out effort to give a complete makeover to Kucch Kar Dikhana Hai and Hai Na Bolo Bolo.
Ravi Bahal whose Boogie Woogiehas been notching good TRPs on Sony for over seven years has been roped in to give company to Nausheen in place of Karan Oberoi in Kucch Kar Dikhana Hai and Shruti Seth the Veejay of First Day First Show and Junglee Juke Box replaces Sonali Malhotra in Hai Na Bolo Bolo.
Whether this switch will change the fortunes of the two shows remains to be seen. But Star Plus is fast learning that popularity of all shows is not always on a song!
Bollywood calling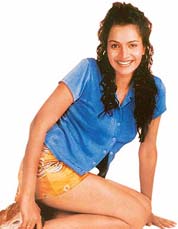 Shweta Kwatra: Box-office masala
Ever since the Mandira Bedi-hosted World Cup, Max has been working towards making its shows more absorbing and innovative.
Take for example Current Bollywood telecast every Wednesday and Sunday at 8 p.m. This weekly show is now being anchored by Shweta Kwatra, the most popular Bahu of Kahani Ghar Ghar Ki whom viewers love to hate.
The new Avtaar has a stylish set and is packed with new edit patterns bringing more masala to viewers. The Wednesday episode will carry more trade stories whereas the Sunday episode will be like a magazine presenting featurish stories to give a more enduring feel.
It comprises segments like whatís hot, whatís not, Bollywood parties, film reviews, newsmakers, interviews and the latest fads ranging from Hrithikís sunglasses to Shah Rukhís pullovers.
"The show is all about what happened in Bollywood in the previous week. It is high-energy and fun, Itís got style and attitude. And we present it without malicious gossip or rumour-mongering." But then, whatís Bollywood without gossip and rumour-mongering!
On the right track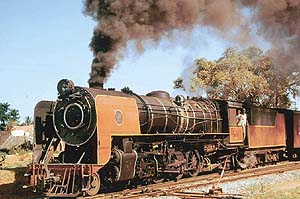 The Great Indian Railway: Uniting the nation
What with a spate of accidents the Indian Railways may be passing through tough times, but no one can deny that first the steam engines and now the diesel and electric engines have been transforming the Indian landscape since 1853. They have performed myriad tasks, like climbing into the Himalayas or bringing commuters into cities and villages.
With 38,000 miles of track acting like veins and arteries pumping millions of passengers and tonnes of cargo to thousands of destinations each day, the Indian Railways is one of the largest train systems in the world, uniting a vast subcontinent and serving as the lifeline of India today.
The Great Indian Railway on the National Geographic Channel on July 26 at 9 p.m. is a fascinating series about the ingenious railroad system, a legacy of British Raj that has remained a vital component of national unity. A journey along the rails reveals diverse peoples and glorious scenic splendours.
Celebrate the majesty of the past and present of the trains by climbing aboard and experiencing the vibrant pulse of India and its people along the Great Indian Railways.
Enter the terminators
Robots with emotions. They speak to you, play sports, fight crime and help astronauts in space. These are robots that will soon be sharing our homes. But just how smart are they? Will they be our slaves or will we become theirs?
Reports are going to change the world in ways we can hardly imagine. They will make our lives more productive and easier. But if and when robots get minds of their own, they will have the potential to eliminate us.
Robosapiens on July 20 at 7 p.m. on the Discovery Channel takes an eye-opening look at the latest in robotic technology, giving viewers rare access to cutting-edge labs in Japan, America and Europe, where scientists are working hard to recreate the human race out of metal, plastic and silicon.
Whether itís the use of robotic technology in developing human prosthetics, fighting crime or sheer entertainment, itís clear that a world run by robots may be closer to becoming a fact rather than just science fiction.
Scoring a hit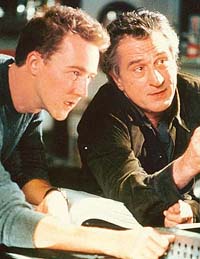 Scene from The Score: Thriller with a top star cast
Roll out the red carpet because itís almost as good as the Oscar night, with the star-studded cast of The Score on HBO, July 26 at 9 p.m.
With only two sides to the law, Nick Wells (Robert De Niro) doesnít crack cases, he cracks safes. But heís had enough, and wants to clean up his act by running a Montreal jazz club with his girlfriend Diane (Angela Bassett).
But Nickís friend Max (Marlon Brando) doesnít fancy the career switch and teams him up with Jack Teller (Edward Norton), who is hungry for his first score. A young and talented thief, Jack needs Nickís safe-cracking talents to make his first big score: a prize worth millions locked behind the walls of Montrealís Customís House.
Itís a volatile combination in which egos clash and sparks fly, but the thrill of the heist has a grip on all three men, who wonít give up no matter what the risk. And the stage is set for the fireworks.
Surprisingly, with a huge star cast like that The Score has inexplicably gone unnoticed. But donít miss out on this extravagant rookie-meets-retiree movie where the safe-cracking, scene-stealing pair score top notch on the movieís Richter scale.
ó Mukesh Khosla