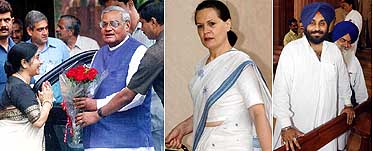 From left to right: Prime Minister Atal Bihari Vajpayee is greeted by Parliamentary Affairs Minister Sushma Swaraj; Mrs Sonia Gandhi arrives and Shiromani Akali Dal MP Sukhbir Badal is all smiles on the opening day of Parliament's monsoon session in Delhi on Monday.
— PTI photos
7 killed, 42 hurt in twin blasts
Jammu, July 21
In the first major strike on Vaishno Devi pilgrims, militants tonight launched two grenade attacks in quick succession killing at least seven devotees, including a child, and injuring 42, 10 of them seriously, at Banganga, 2 km from Katra, on way to the Vaishno Devi shrine, police sources here said.


8 Amarnath pilgrims killed in mishap
Kelly death probe to be public


London, July 21
The head of an inquiry into the suicide of a British Government scientist embroiled in a vicious row over the Iraq war said today that he would make his own decision on the extent and scope of the investigation.
In Education Tribune today
HOROSCOPE
THE TRIBUNE MAGAZINES
On alternate Mondays

On Sundays
On Saturdays
No Central rule in Bengal, says Fernandes
NDA Convener and Defence Minister George Fernandes with Trinamool Congress chief Mamata Banerjee at a Trinamool Congress rally in Kolkata on Monday to observe "martyrs day" to remember 13 Youth Congress activists killed in police firing 10 years ago.
— PTI photo
SC rules strike not basic right of government staff
New Delhi, July 21
Asking the Tamil Nadu Government to show magnanimity in reinstating its sacked 1.70 lakh employees for striking work on the dispute over withdrawal of certain pensionary benefits, the SC today observed that the government employees across the country did not enjoy the fundamental right to strike.
Amritsar hospital faces closure
Govt withdraws medical staff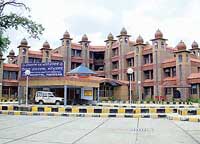 Amritsar, July 21
The newly built multi-crore Jallianwala Martyrs' Memorial Civil Hospital may face closure as the Civil Surgeon today directed the Deputy Medical Commissioner to relieve all the doctors and medical staff.
This is the recently built multi-crore Civil Hospital, Amritsar, which faces closure as the Civil Surgeon has directed withdrawal of doctors and para-medical staff. — Tribune photo Rajiv Sharma


Tying nuptial knot in four religious ways
Panchkula, July 21
Amidst cheers, a Panchkula couple today tied the nuptial knot in four different ways. As relatives and friends stood up to applaud, the bride and the groom promised to live together, for better, or for worse, according to Hindu, Muslim, Sikh and Christian rites.
BJP to make Sonia's origin poll issue
July 21, 2003
BJP tries to please Sangh Parivar on Ayodhya
July 20, 2003
BJP targets Sonia's foreign origin
July 19, 2003
BJP to mend fences with VHP
July 18, 2003
150 feared washed away in Kulu cloudburst
July 17, 2003
MiG-21 explodes
July 16, 2003
No Indian troops for Iraq
July 15, 2003
Musharraf has vested interest in instability: Gujral
July 14, 2003
India rejects Pak terms for resuming air links
July 13, 2003
Peace journey begins
July 12, 2003