Thursday, July 24, 2003, Chandigarh, India



B U S I N E S S
Corporate news
Maruti profit rockets 971 pc
New Delhi, July 23
Soon after its listing on major stock exchanges of the country, Maruti Udyog today reported a hefty 971.3 per cent growth in the net profit during the first quarter this fiscal. The net profit stood at Rs 123.2 crore during the quarter ended June 30, 2003, over Rs 11.5 crore during the year ago period, a company statement said.
Punjab a major market for spurious products
Chandigarh, July 23
After Delhi, Punjab has emerged as a major market of spurious and duplicate products in the North India. The branded companies are concerned that consumption and production of various duplicate and fake products in the state, which include FMCG products, medicines, auto-parts, computer software, pesticide and seeds, have already crossed over Rs 1000 crore annually in the state.
Punjab may readjust PNFC, Punwire staff
Ropar, July 23
The Punjab's Government is planning to readjust the 950 retrenched employees of the two closed public sector units—Punjab Fertilizers and Chemicals Ltd. and Punwire. There are about 1500 retrenched employees of both units. But the government has identified 950 who can be readjusted in other PSUs or departments of the state government.
WB warns banks, FIs of high NPAs
New Delhi, July 23
World Bank has sounded the warning bells for Indian banks and financial institutions on high non-performing assets and the risks of suffering losses if interest rate starts rising in the economy.
Rs 29,487 cr realised from disinvestment
New Delhi, July 23
Rs 29,487 crore have been realised as disinvestment proceeds between April 1991 and March 2003, Lok Sabha was informed today. The amount has been credited to the Consolidated Fund of India, Disinvestment Minister Arun Shourie said replying to a question.
TRAI rejects cell operators' demand
New Delhi, July 23
Rejecting cellular operators' demand for withdrawal of its consultation paper on Unified Licensing regime, Telecom Regulatory Authority of India today said the "question of withdrawing the consultation paper does not arise".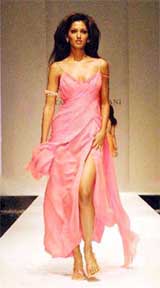 A model displays designer Neeta Bhargava's collection at Lakme India Fashion Week in Mumbai on Tuesday. — PTI

Declare Baddi free economic zone, HP urged
July 23, 2003
Tata Engg net shoots up 257 pc
July 22, 2003
Re-rolling mills violating Pollution Act
July 21, 2003
Bankers seek amendment to farm dues recovery Act
July 20, 2003
TRAI lashes out at cellular operators
July 19, 2003
RBI caps interest rate on NRE deposits
July 18, 2003
New pension scheme eyewash, says Forum
July 17, 2003
Govt announces tax reforms
July 16, 2003
Pension, insurance schemes launched
July 15, 2003
Can the Maruti IPO story be replicated in other PSUs?
July 14, 2003