Army to launch major operation
Ultras to be flushed out from Jammu border belt
New Delhi, July 24
The Army is set to launch a major operation to flush out militants in Rajouri, Udhampur, Akhnoor and Jammu areas and has also finalised plans to reposition some of its establishments in these border areas to make them less vulnerable to militant suicide strikes.
Intelligence in a fix over identity of killed ultras

Nation page: Army caught unawares

Editorial: Pilgrims' progress
Takht Patna Sahib overruled on Romana
Amritsar, July 24
The Sikh clergy today declared the hukamnama (edict) issued by Takht Patna Sahib declaring Mr Mohinder Singh Romana, president of the Gurdwara Management Committee, Patna Sahib, a tankhiya as null and void.
IAS officer booked for forgery
Shimla, July 24
The police today booked Mr S.K. Chaudhari, an IAS officer who allegedly got appointment as Joint Secretary to the Himachal government on the basis of a forged letter. He has been charged with forgery and cheating.
PUNJAB: Tohra elected to SGPC executive

HARYANA: Alarm bells ring for INLD

J&K: 18 IAS, 35 police officers shifted

HIMACHAL: Furniture at cost of arms

NATIONAL CAPITAL REGION: When MCD makes purchases with eyes shut


CHANDIGARH:
Robbers club father, son to death


LUDHIANA: Cong councillors threaten to quit


EDIT: Advice, not command

BUSINESS: Rs 2,822-cr Plan outlay for Punjab

NATION: Army caught unawares

WORLD: Saddam sons' killers killed in attack

SPORTS: East Bengal storm into final

In Career Guide today
HOROSCOPE
THE TRIBUNE MAGAZINES
On alternate Mondays

On Sundays
On Saturdays
IN PASSING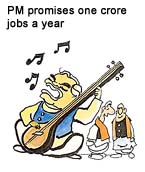 Ustad Vajpayeeji has begun his recital with vote raga.

by Sandeep Joshi
Fazlur Rahman backtracks on LoC remarks
Wagah (Amritsar), July 24
Maulana Fazlur Rahman leader of the Opposition in National Assembly, Pakistan, today evaded the issue of condemnation of recent killings in Katra and Akhnoor sectors believed to be the handiwork of Pakistan-backed terrorists.
The leader of the Opposition in Pakistan Parliament, Mr Fazlur Rehman, with Mahmood Asad Madani, General Secretary, Jamiat Ulama-Hind, at the Wagah checkpost on Thursday.
— Tribune photo Rajiv Sharma
AJT deal with UK firmed up
New Delhi, July 24
Defence Minister George Fernandes announced in the Lok Sabha today that the government had "finalised the last action" on acquiring Advanced Jet Trainers for the Indian Air Force. It is the second time in 10 days when India has ruffled feathers of the USA.
I will fly in MiG-21, says Fernandes

George's boycott set to end
100 bus passengers looted near Raipur Rani
Panchkula, July 24
In a daring highway robbery, over 100 persons travelling in two buses, a truck and a car were looted by five persons near Dhandrawali village, 4 km from Raipur Rani, in the wee hours of the morning today. It is estimated that cash and jewellery worth over Rs 2 lakh was stolen.


2 buried in landslide in Kulu district
Manali, July 24
Two members of a Nepalese family were buried alive when the house in which they were living collapsed due to flash floods in Podu-Ra-Nullah at Bahang on the Manali-Leh border road, 4 km from here, today at 7.30 a.m.

Rescue operations being carried out at Bahang, 4 km from Manali, to extricate bodies of flash-flood victims on Thursday morning. — Photo by writer
SC favours law on common civil code
July 24, 2003
Brig, 7 jawans shot dead
July 23, 2003
Ayodhya rocks Lok Sabha
July 22, 2003
BJP to make Sonia's origin poll issue
July 21, 2003
BJP tries to please Sangh Parivar on Ayodhya
July 20, 2003
BJP targets Sonia's foreign origin
July 19, 2003
BJP to mend fences with VHP
July 18, 2003
150 feared washed away in Kulu cloudburst
July 17, 2003
MiG-21 explodes
July 16, 2003
No Indian troops for Iraq
July 15, 2003