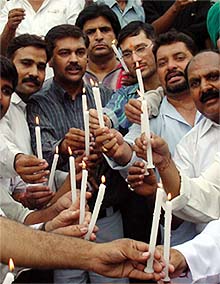 Members of the All-India Anti-Terrorist Front pay tributes to Kargil martyrs at Clock Tower in Ludhiana on Saturday. — Photo Pradeep Tewari
Mixed response to ruling on uniform civil code
Ludhiana, July 26
There has been a mixed response to the recent directive of the Supreme Court regarding the legislation relating to uniform laws for all citizens of the country. While some residents have welcomed the directive, some others are apprehensive of it.
Mann flays visa denial to Amnesty chief
Ludhiana, July 26
The Shiromani Akali Dal (Amritsar) has condemned the denial of visa to the head of Amnesty International by the Indian High Commission in London. President of the party and MP Simranjit Singh Mann said he was shocked at the development which could be termed as a thoughtless act which would place India on the list of "repressive" countries.


Nehru Planetarium in dire straits
Ludhiana, July 26
From an asset to a blot on the face of local tourism — this has been the tragic transformation of the local Nehru Planetarium located near Rose Garden here. Set up at an expenditure of crores, the planetarium, one of its kind in the northern region, is a victim of red tape and lackadaisical attitude of authorities.


The neglected Nehru Planetarium. — Photo Pradeep Tewari
Another chance to get voter's I-card
Ludhiana, July 26
Voters of Ludhiana 59 (Ludhiana East) Assembly segment would have yet another chance to get themselves photographed for voter ID cards from July 28 to 30 during 8am to 6 pm.
Prosecution cell going strong
Ludhiana, July 26
The newly constituted prosecution cell of the district police has obtained conviction in two cases of murder in July, according to a press note by the SSP here today. Other cases in which the cell has successfully got the accused convicted include a case of attempted murder, two cases of dacoity, a case of dacoity bid, a case of rape, a case of kidnapping and two cases of theft.


Valmikis hold chetna rally
Ludhiana, July 26
A Valmiki chetna rally on scooters and motor cycles was flagged off from Jawahar Camp here this morning. National chief organiser Shukracharya Darshan Rattan of the Adi Dharam Samaj, speaking on the occasion, said all obstacles in the way of Valmiki Tirath would be removed.

Mr Charanjit Singh Atwal, former Speaker, Punjab Vidhan Sabha, flags off a scooter-cum-motorcycle rally by the Adi Dharam Samaj in Ludhiana on Saturday.