Get sporty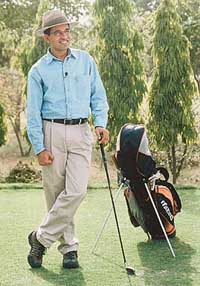 Harsha Unplugged:
All-new sports show
He is a veteran of 320 One-Day Internationals and 65 Test matches. Besides, he has hosted 181 quiz shows, 84 episodes of Harsha Online, and 75 of Inside Edge. And yet, he keeps enthralling viewers with sports shows in a style that hardly has a parallel on Indian TV.
In his latest offering, Harsha Unplugged, ESPN, Wednesdays, 9 pm, Harsha Bhogle brings to the small screen national and international stars from different sports. This half-hour show, unlike his previous Harsha Online, is short and snappy. It focuses on the lives of individual stars and what influenced their respective careers.
In cool denims, khakis and a sola hat Bhogle interviews guests like Parthiv Patel, Dennis Lilee and Narain Karthikeyan. He moves out of the studio and takes the show to golf courses, cricketing fields and racing tracks.
Harsha Unplugged also solicits opinion from a cross-section of people and there's a viewers' poll at the end of each show, making it at once interactive and engrossing.
Romancing the showman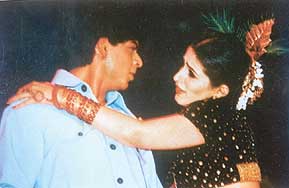 Shah Rukh and Twinkle in Showman of the Millennium: Star-studded
Revive the romance and nostalgia of Raj Kapoor in Showman of the Millennium on Sony Entertainment Television on Sunday, July 27 at 9 p.m. Shah Rukh Khan recreates the magic with Juhi Chawla, Twinkle Khanna and Mahima Chaudhary. The event highlights movies that have left an indelible impression on generation of viewers.
Compered by Anupam Kher, the show features unforgettable numbers sung by Nitin Mukesh and Anuradha Paudwal to music set by Anu Malik. There are special appearances by Randhir, Rishi and Rajeev who pay homage to their legendary father.
Watch the engrossing show and relive the memories of some of the most hummable melodies of our times.
Sitar discovery
Ravi Shankar has done more for Indian classical music than any other musician. Ravi Shankar: Between Two Worlds, Saturday, July 26 at 9 pm on Discovery Channel, brings together archival footage spanning seven decades of the maestro's musical career.
Filmed over two years in India and America, this programme brings out Shankar's mission to popularise Indian music around the world. As also his ambivalence towards the world of sex, drugs and rock 'n' roll into which he was catapulted in the sixties.
Starting with his international touring as part of brother Uday's dance troupe when he was only nine, the show traces Shankar's life under the tutelage of the great Baba Allauddin Khan, who emphasised the spiritual content of music, his meeting with violinist Yehudi Menuhin, saxophonist John Coltrane and Beatle George Harrison. A riveting show that takes you back to Shankar's performances from 1954 to the present day.
Back-to-back duds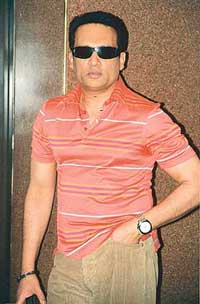 Suman: Hit wicket!
Trouble it seems comes in twos. For the first time in years, Shekhar Suman has bitten the dust with Bade Miyaa Chhotte Miyaa, Mondays and Tuesdays at 8.30 p.m. on Sab TV. The stand-up comic who's had heady success with Simply Shekhar has got a thumbs down for the nutty comedy.
Now XYZ on Zee, 11 am every Sunday, too has opened to lukewarm response. The megabuck serial shot in India, Thailand and Singapore and riding on the back of Shekhar Suman never really takes off.
It revolves around the crime-busting adventures of detective X played by Shekhar and his two companions — Miss Y (short for Yamini) and Z for Zorro the dog. The storywriter just can't make up his mind whether it ought to be a serious thriller or a comedy with some sleuthing thrown in. That's where things start going wrong.
Which perhaps explains the soft launch of XYZ. In the past, whenever a big serial has been released Zee TV has gone to town with its publicity blitz. But this time it has been a quiet affair and the channel's plans to pep up Sunday mornings seems to have gone awry.
New kid in the block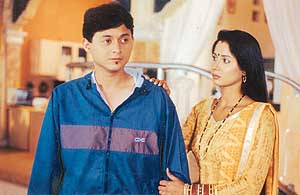 Swapnil with Sangeeta Ghose in Des Mein Nikla
Hoga Chand: Star to watch
His Aamir Khan look-alike underlip beard notwithstanding, Swapnil Joshi could pass off as any school kid. But looks sure can be deceptive.
Swapnil, who plays Sam the prodigal son of the Singh household in Des Mein Nikla Hoga Chand, undergoes a complete image makeover in the serial. He transforms into a responsible man who sees through his wife's manipulations and is ready for a showdown.
The star, who started his career at age eight playing Kush in Ramanand Sagar's Uttar Ramayana, has now matured into one of the better artistes of the small screen. He has already given some good performances in Shri Krishna, Amanat, Hadd Kar Di, Dil Vil Pyar Vyar along with a cameo in the Nana Patekar-starrer Gulam-E-Mustafa.
He too aspires to hit the silver screen and make it big like his idols Shah Rukh and Salman. But as of now he's in no hurry as his schedules are packed with Desh Main Nikla Hoga Chand and Kehta Hai Dil, where he plays Dhruv. "Films can wait. Let me first hone my skills on TV." Going by his performances the wait may not be a long one.
— Mukesh Khosla