Monday, July 28, 2003
Feature
Advantages outweigh disadvantages
Sukhpreet Bedi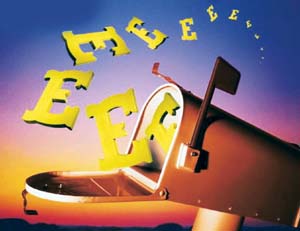 SENDING and receiving messages, letters, etc in the modern society is no longer dependent on the postal system. As electronic medium has ushered in a revolution, computer has become a necessity instead of luxury. The Internet has gifted us e-mail too besides e-commerce, EDI and surfing. E-mail is a facility that has bridged the communication gap among the Netizens and aided in the spread of globalisation. Its use is not merely limited to sending and receiving messages and letters in the form of text but much more which includes memos, reports, graphics, etc. The user can send them through e-mail to an individual or a group of individuals. Moreover, electronic mail can be received, answered, deleted or kept in the memory.
Advantages:
1.E-mail is cost-effective as we can send a long letter to a user for the cost of just a single local call irrespective of the distance.
2.It is immaterial whether the person to whom the message or a letter is e-mailed is present or not since the facility of inbox is provided.
3.Speed is a remarkable feature of e-mail as the mail can be sent anywhere around the globe within a few seconds.
4.The mail, which has to be sent to various persons, need not be rewritten. It can be sent as a copy to other users.
5.E-mail once sent or received can be stored indefinitely.
Disadvantages:
1.Security is one of the major issues on the Net, as techniques that can threaten privacy exist.
2.The user needs to be familiar with the keyboard and should know typing at a reasonable speed.