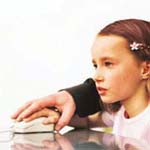 Chatroom cautions
Roopinder Singh
THE last thing that parents who have just bought a computer for their childrenís need, want to do is to worry. They have just invested a lot of money in an effort to keep their children abreast with the latest technology. But, soon they find out, as the German philosopher, Immanuel Kant, discovered two centuries ago, there is nothing that is good in itself. Computers are not intrinsically good or bad. It is how you use them that makes them so.

Digicamís odyssey since 1976
Tobias Wiethoff
ALMOST everyone has an analog camera, but the same isnít true for the digital cameras yet. Those looking to jump into the world of film-free photograph often still feel a little like pioneers, even if millions upon millions of the devices were sold last year.

Advantages outweigh disadvantages
Sukhpreet Bedi
SENDING and receiving messages, letters, etc in the modern society is no longer dependent on the postal system. As electronic medium has ushered in a revolution, computer has become a necessity instead of luxury. The Internet has gifted us e-mail too besides e-commerce, EDI and surfing.
Overcoming e-mail tampering
Deepak Bagai
E-MAILS have become an integral part of the modern business world. E-mail tampering has made sending and receiving them dangerous. E-mail tampering refers to altering of contents of real e-mail to make a fake e-mail containing damaging material.
Cellphones ring in Baghdad mysteriously
Cynthia Johnston
MOBILE phone roaming services were mysteriously available in Baghdad last week, bringing cellular service ó banned under Saddam Hussein ó to ordinary people in the Iraqi capital for the first time. Yet officially, a tender for three mobile phone licences the US-led administration plans to offer across Iraq has yet to take place.

IT WIT
by Sandeep Joshi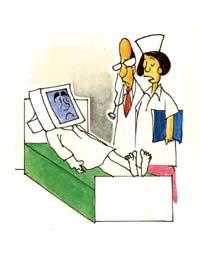 This PC needs complete bed rest because it suffers from slipped Ďhardí disk.

Multimedia modules make them self-dependent
Shruti Gupta
NAAZMA Parveen, a resident of the Muslim dominated Seelampur slum colony in east Delhi, was married off when she was just 17. Her in-laws and husband abused her physically, and one day drugged and abandoned her in a town close to Delhi.


...the mouse will play
Dharminder Singh Ubha
MOUSE is an important input device used in a computer. It is a device that is quite helpful in selecting various utilities on the PC and has made the computer operations easy and versatile. When I got a computer installed at my house some years ago, my wife asked me why a mouse was so named. I was not so sure about it so I replied casually: "Because it looks like a mouse".


This professor could have been richer than Gates
George Nishiyama
HE could have been as rich as Bill Gates, but Ken Sakamura says heís fine earning enough to lead an "ordinary life." For in the world of computers the obscure Japanese engineer stands in the top rank along with Gates, having developed an operating system that is more widely used than even Microsoft Corpís Windows.