Monday, July 28, 2003
Feature
Multimedia modules make them self-dependent
Shruti Gupta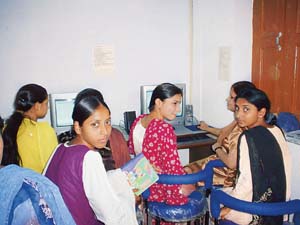 NAAZMA Parveen, a resident of the Muslim dominated Seelampur slum colony in east Delhi, was married off when she was just 17. Her in-laws and husband abused her physically, and one day drugged and abandoned her in a town close to Delhi.
When Parveen managed to find her way back to her in-laws' home, she was charged with being "characterless," thrown out of the house and soon divorced. A shattered Parveen returned to her parents' house in Seelampur. For many months she struggled to recover from her bad marriage.
Then one day, she joined the Information and Communication Technology (ICT) centre run by the NGO, Datamation Foundation, in her neighbourhood. "The ICT centre has changed my life," says Parveen. "I have something constructive to do with my time and I look forward to standing on my own feet."
The centre, supported by UNESCO, offers basic computer education as well as vocational training to Muslim girls. For a monthly fee of Rs 50, the girls can learn to operate several modules that help them in income generation activities.
Unlike many computer shops, the Foundation came to Seelampur not just to teach computer skills but also to help women enhance their traditional skills further. Women in the area are traditionally adept in mehndi designs, tailoring, zari work, thread embroidery and handicrafts. Many make soaps, insecticides and candles in their homes.
The Foundation developed a few interactive multimedia modules to help the girls familiarise themselves with computers. For instance, a module on henna provides step-by-step guidance - how to select the right kind of henna, how to make good henna oil, and also offers a range of patterns and designs. Girls practice these designs both on Paintbrush software and on each other's palms. Other modules help them in the craft of tailoring, and making soaps and candles.
"I never thought one could learn garment designing on a computer," says 17-year-old Rehana Sultan, who dropped out of school after Class X. "Initially, I was rather intimidated by the computer. But now I can handle the machine on my own."
Says Sarita Sharma of the Foundation: "We are not fooling ourselves into believing that we are training these girls to take up computer-based employment. Families might allow their daughters to come to the centre, but few will send them out to work."
According to Sharma, most girls come with a vague impression about the computer. "We help them believe that they too can use this wonder machine, and that too for practical purposes. This gives them great confidence and a sense of ambition within their family vocation."
The Foundation is also working at establishing market linkages for the benefit of the community. A portal is being developed for the purpose of selling the handicrafts produced by local families. In addition, beauty parlours in the vicinity will soon be linked to the centre so that they can hire the girls for henna designing.
The NGO has also prepared a module on nikaah (marriage) rules and regulations, and this has not upset the community elders. "Women of our community have a vague knowledge about marriage-related provisions in the Shariyat (Muslim Law). I am using this module to learn more about woman's legal and social rights in marriage," says Firdaus Malik, who shares her new knowledge with other women of the family.
And there are modules on health and personality development. The health module gives basic knowledge about common diseases like malaria and jaundice, how these can be prevented, information on nutrition and the importance of hygiene. In the coming months, the NGO plans to introduce educational modules on sexual and reproductive health. — WFS