Move to collect funds for upkeep of parks
Chandigarh, August 5
The Municipal Corporation (MC) is mooting a scheme to collect Rs 10 per month from each household in the city. These funds would be put at the disposal of residents welfare associations of each sector to help them maintain parks in their respective areas.
HC seeks report on raising of dam height
Chandigarh, August 5
Taking up the save Sukhana Lake case, a Division Bench of the Punjab and Haryana High Court has directed the Chandigarh Administration and other respondents to submit a detailed report and produce relevant record "connected with the raising of the dam's height".

Invincible till the end
SAS Nagar, August 5
A pall of gloom fell on the house of Gp Capt J.S. Kahlon (retd) in Sector 71 here as news of his death in a helicopter crash along with four Amarnath pilgrims in Jammu and Kashmir was received this morning.


Sculpted wetland pulsates with life
Chandigarh, August 5
When the neglected stretch of land lying between the Technical Teachers Training Institute (TTTI) and the Municipal Nursery in Sector 26 was chosen for rainwater harvesting some time back, no one had an idea about the potential of the site.

Beautiful varieties of lotus procured from Kashmir bloom in the wetland lying between TTTI and the Municipal Nursery in Sector 26. The site will shortly sport the first weather observatory (seen in the background) of Chandigarh.
— Tribune photo Manoj Mahajan
Open sale of army uniforms in market
Chandigarh, August 5
The recent incidents of terrorists attacking security installations wearing military uniforms has once again focused attention on the unchecked sale of army uniforms and accessories in the civilian market.
Zero-silt plan for Sukhna Lake
Chandigarh, August 5
An Haryana irrigation expert has come up with the model of a plan which, he says, could offer the "final solution" to the problem of silting in the Sukhna Lake.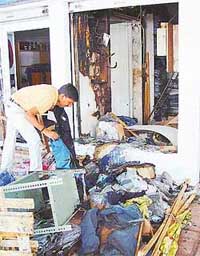 Short-circuit causes fire in shop
Chandigarh, August 5
Clothes worth almost Rs 25 lakh were saved from being burnt in a fire caused due to a short-circuit at SCO 116 in Sector 17. However, clothes worth over Rs 10,000 were burnt in the fire. The firemen had to break open the lock and glass of the shop after they got information that smoke was emanating from the shop in the morning. Jeans and school bags kept in the shop had caught fire by the time the operation to extinguish it was launched by the Fire Wing of the Municipal Corporation.



A shopkeeper in Sector 17 removes burnt clothes from his shop which caught fire on Tuesday in Chandigarh. — A Tribune photograph