Monday, August 11, 2003
IT Click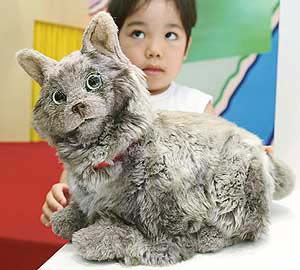 A visitor touches a SegaToys Co's pet robot at the 2003 Japan Toy Show in Yokohama, south of Tokyo. "Necot", the robot's tentative name, is programmed to communicate via gestures or sound, and will go on sale next March for 29,800 yen ($ 248.28).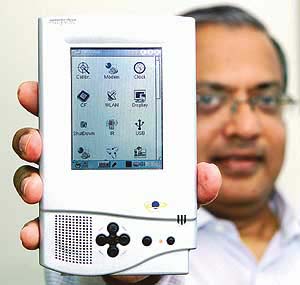 Indian Chairman of Encore Software Ltd Vinay Deshpande holds the Simputer in the southern Indian city of Bangalore. The affordable handheld computer aimed at busting the digital divide is gaining popularity in small towns and schools after overcoming start-up glitches, a key official championing the device said.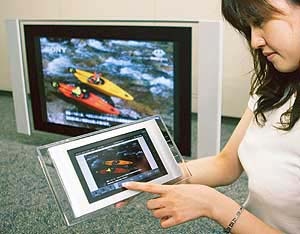 A Sony employee demonstrates a newly developed 42-inch wide screen Plasma flat panel television "KDE-P42HZ1" with a wireless controlled seven-inch liquid crystal display (LCD) palette display in Tokyo. The wireless palette display controls the 42-inch plasma flat panel television (seen in rear) and has multiple functions monitoring TV and browsing the Internet.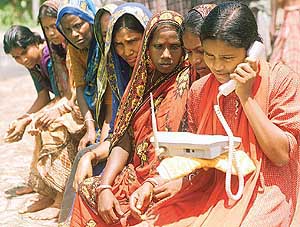 Pratima Mandal, a 19-year-old Indian village girl, uses a WLL (Wireless Local Loop) mobile phone to talk to her family members from Madhabpur village, while other village women wait for their turn, 100 km south from the eastern Indian city of Kolkata, capital of West Bengal. NGOs are distributing mobile phones to a select number of villages in the remote areas of the state to improve connectivity.

— Reuters