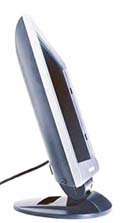 Flat future
Peeyush Agnihotri
COMPUTERS, like figure-conscious teenagers, are going anorexic. In a trend that certainly cannot be termed as the thin edge of the wedge, the PC is getting thin on the top. To put things straight, LCD (Liquid Crystal Display) monitors are phasing out the CRT (Cathode Ray Tube) ones.
Flat-screen TVs replacing curved ones
FLAT-screen television sales are expected to fuel Sony Electronics' US growth this year, but traditional televisions will remain a strong revenue driver, company president Hideki "Dick" Komiyama said.

Gizmos run on this
Vibhor Sood
IMAGINE you are on the 25th floor of a 100-floor building. You press a button to go to the 100th floor. The lift system that is in place guarantees that within the next three seconds, you shall have an open lift waiting for you. This is actually happening as now the entire elevator system is being run by a combination of hardware and software. This combination is called embedded systems.

Net usurps print ads
TRYING to sell an old Beatles record or grandma's old-fashioned coffee pot often used to be hard work. The seller needed to set up a stand at a flea market or place a small ad in the local paper. The financial return often did not match the effort. The Internet has changed this. Trading in used items has become easier and often more successful.

IT WIT
by Sandeep Joshi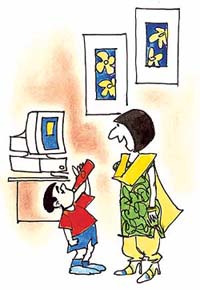 Tell me son, can this cold drink be used to kill computer virus?

Be smart with your hard disk
Hitesh Bergal
RELIABILITY is a quality we seek in our daily lives. Disk drive manufacturers also aim at improving the reliability of their products with the sole purpose of achieving customer satisfaction. They take giant steps towards predicting reliability in disk drives, a step marked by the emergence of Self monitoring, Analysis and Reporting Technology (SMART).


Eight years gone by, Net revolution a far cry
Sandeep Kumar Sharma
ON August 15, 2003, the Internet is going to complete eight years of its existence in India. Last eight years have seen a lot of ups and downs for the Internet users. Still our performance on the Internet scenario is not satisfactory. The reasons are poor economic conditions and lack of infrastructure.


Refilling gets lucrative
Ellis Mnyandu & Steve James
THERE'S gold in those empty inkjet printer cartridges. A thriving new economy has grown from selling refilled or remanufactured cartridges for up to 80 per cent less than what manufacturers like Lexmark International, Epson, Canon and Hewlett-Packard charge.

New lease of life for rare manuscripts
Chandran Iyer
OLD manuscripts and rare photographs, which have become discoloured and blurred and may face destruction unless given expensive chemical treatments, can now be restored to their original form and even preserved for posterity, thanks to e-publishing and digital solutions which are changing the way archives can be managed.

Cellphones play Cupid
Rashmi Pratap
THE days of writing love letters are pass`E9, thanks to the mobile revolution that is ringing in new tones for the lovestruck wannabes! The fear of being caught with a love letter and the hazards involved in its safe delivery are now things of the past as short message service (SMS) has become the most reliable and quickest tool of exchanging sweet nothings — be it college or work place.