Monday, August 11, 2003
Feature
New lease of life for rare manuscripts
Chandran Iyer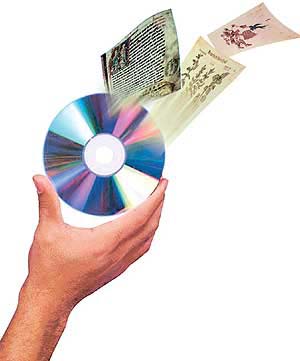 OLD manuscripts and rare photographs, which have become discoloured and blurred and may face destruction unless given expensive chemical treatments, can now be restored to their original form and even preserved for posterity, thanks to e-publishing and digital solutions which are changing the way archives can be managed.
Digital restoration involves corrective measures to impart new life to antiquated contents on perishable media such as paper to reinstate it in its usable form forever. Thus large volumes of ancient books and rare photographs can be restored and preserved for posterity.
"Digital restoration, in fact, gives a new lease of life to priceless old documents on palm leaf, parchment or paper, many even 2,000 years or more in age," says Himanshu Goel of Digital Publishing Solutions (DPS), who specialise in the digital restoration of rare documents and photographs.
"Restoring them digitally means converting them to software formats that can be exported to a new generation of electronic media," he says noting "we owe to the future generation... thus the need to safeguard the content for their benefit and use".
The interesting thing about storing the photographs in digital format is that one can zoom, enlarge and see many features that would otherwise not be seen even in the original pictures.
The antique books, which are stored in digital format by the DPS, include ancient palm leaf manuscript of snake-bite treatment which was found in a museum in Chennai, old calligraphic manuscripts from Moghul times, a rare book describing plants of Coromandal coast published in 1795, book on fungus published in the 17th century, demo projects of Aligarh Muslim University etc.
This Hong Kong based company that has subsidiaries in India and Singapore is tying up with universities, libraries and institutions for offering content management solutions.
The company is working with some of the leading libraries in the country for preserving rare copies of various works including those on palm leaves. Indian Agricultural Research Institute (IARI) and the National Council of Libraries, Indian National Science Academy, National Chemical Laboratories etc are some of its important clients.
"Had we preserved the contents of the ancient Nalanda University, India would have been one of the most developed countries in the world," adds Goel.
DPS is involved in scanning backdated journals, books, documents and rare photographs creating a Web-enabled repository of the same where the user can search for journals on the Web.
Since most of the data or content is stored in the form of papers, it gets subsequently lost as the paper starts withering and hence storing it in digital format is the best means of preserving it.
Goel says every organisation can digitise and convert their contents to make it available for a wide range of current and future network publishing scenarios.
Publishers too can digitise and convert non-performing assets into new revenue streams. And so can libraries and archives to protect and preserve valuable treasures forever and store in multiple locations and increase accessibility, he says.