Saturday, August 16, 2003, Chandigarh, India


W O R L D
Power failure brings strangers together
New York, August 15
"Are you from India?" asked a commuter sitting on the steps of the closed Port Authority Bus Terminal, perhaps the biggest in the world, by the side of this correspondent, who spent a major part of the night along with lakhs of persons trying to find some way to go out of Manhattan during the massive power failure in the USA.
| | |
| --- | --- |
| | Pedestrian Raj Dhiraj takes matters into his own hands as he controls traffic at a downtown Toronto intersection on Thursday. Traffic, subways and elevators shut down following a widespread power outage in Ontario and parts of the US. — AP/PTI photo |
Ban on Indian TV channels hits Pak cable operators
Islamabad, August 15
Notwithstanding the present bonhomie between Pakistan and India, Islamabad has imposed fresh curbs on Indian TV channels, causing much heartburn among local cable operators.
I-Day celebrated in China, Gulf countries
Beijing, August 15
The Indian community in China today enthusiastically celebrated the 57th Independence Day at three separate functions held in Beijing, Shanghai and Hong Kong Special Administrative Region.
Modi's UK visit runs into rough weather
London, August 15
The Gujarat Chief Minister, Mr Narendra Modi's, coming visit to the UK has already run into rough weather with several organisations planning demonstrations against him over his government's handling of the post-Godhra violence in the state last year.
Case over sale of nuke-tech to India
thrown out
Washington, August 15
A US federal judge has thrown out the eight-year-old convictions of two defence company executives who sold technology that helped India build better nuclear missiles, finding that even though their conduct was "reprehensible," it was not criminal.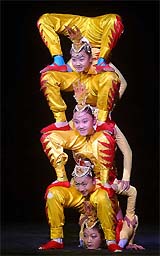 Girls of the Imperial Circus of China perform at the Roman Temple of Jupiter in Baalbek, Lebanon, on Thursday. The 55-odd acrobats and jugglers, coming from a variety of countries, competed with each other for the sold-out crowd's applause. — Reuters

Kashmir most dangerous place, says Armitage
August 15, 2003
Historical legacies should not impede ties, says China
August 14, 2003
Delegates vow to spur India-Pak dialogue
August 13, 2003
Pak against conflict, says Musharraf
August 12, 2003
Ripudaman seeks aid to pay legal bills
August 11, 2003
USA shares concerns on terror,
says Mansingh
August 10, 2003
204 Indians in British jails
August 9, 2003
Death for key man in Bali bombings
August 8, 2003
Rumsfeld sceptical of more US troops for Iraq
August 7, 2003
China sticks to stand on Arunachal
August 6, 2003