Saara Akaash completes a trilogy of serials on the armed forces after Fauji and Sea Hawks on the Army and Navy, respectively. Now UTV is giving a fourth dimension to the genre with a big show on the Army helicopter division. So get set for the action thrillers.
Genie in a bottle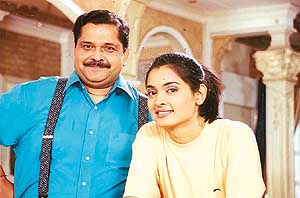 Hukum Mere Aaka: Bewitched by a genie
Most channels are fast realising that next to women it is the kids who are the prime drivers of TRPs. That's why there's a sudden rush for shows primarily targeted at young viewers.
If Star Plus can have Son Pari, then Sahara Manoranjan has a pari of a different kind in Hukum Mere Aaka weekdays, Monday to Thursday at 7.30 p.m.
Directed by Rajendra Mehra who has to his credit serials like Parchhaiyan, Hi Zindigi Bye Zindigi and Mere Angane Mai, this one is comic fantasy loaded with special effects and aimed at children.
The pivot of the story is an absent-minded professor played by Tiku Talsania who brings home an antique looking bottle. Much like Alladin, as he is cleaning the bottle out comes a genie with magical powers. Soon enough, the baffled professor's life goes for a summersault and despite his best efforts he can't get rid of the genie.
There are hilarious encounters between the nutty professor and the gently genie. And Tiku Talsania is in his element playing the thoroughly confounded man. Though very entertaining, the striking resemblance with Sidney Sheldon's I Dream Of Jennie hits you right between the eyes.
Theme for a dream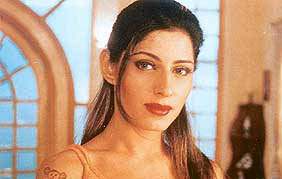 Naam Gum Jayega: Captivating soap
Despite what the doomsayers predicted, Sony Entertainment Television is having a dream run with Naam Gum Jayega, Mondays through Thursdays at 9.30 p.m.
Many critics had forecast that the serial would go the way of Ekta Kapoor's Kahani Terii Merrii which sank without a trace and was replaced with Naam Gum Jayega. But the captivating theme of two girls — a Hindu and a Muslim — has struck the right chord and got viewers hooked. It is no surprise that the serial has become the new channel driver.
It revolves around the story of two girls, Priyanka and Zeenat, who discover after 22 years that they do not belong to the family, religion and society in which they have been brought up. They've been leading each other's lives after they were swapped at birth.
Even as they are reconciling to the travails of fate their lives are ripped apart by Maneka who is hell bent of ruining Priyanka's love life by making an all out bid to wean Aryan away from her. Will Priyanka lose Aryan to Maneka?
Though there are no prizes for guessing the outcome, the story nonetheless gets absorbing thanks to all-round good performances by stars like Gauri Pradhan, Kanwaljeet and Benjamin Gilani — who make a winsome trio.
Villain VJ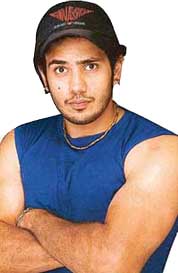 Kunal Netra: Baddie's day out
If top models like Milind Soman, John Abraham and Arjun Rampal can hitch on to the Bollywood bandwagon, so can the VJs. Purab made his debut in Supaari and Shyan Munshi in Jhankar Beats. Though they may not have exactly set the silver screen on fire, it is not stopping other VJs from following suit.
The latest to step in is Kunal Netra, the Zee TVVJ who plays a baddie in Feroz Khan's Jaansheen. Though the film has been made to steady the shaky career of Fardeen Khan, insiders say that Kunal is the one who steals the thunder.
The anchor of the film-based show Sunday Sitaron Ka, Kunal has now become a sitara himself and plays an ace biker who tries every trick in the book to stop Fardeen from winning a race.
But why a villain? "Everyone wants to be a hero. I thought of trying something different" is his simple answer. And his move is already paying off. Even before the release of Jaansheen he has been signed up by Farah Khan and Akbar Khan for their new projects and he is working with Keshu Ramsey's son. For some, villainy pays rich dividends!
Wedded to tradition
Visit Durban in South Africa, where Trevor and Keshree are preparing for a traditional Hindu Tamil wedding in a distant country where their ancestors first landed and settled 150 years ago.
Hindu Wedding, on August 21 at 2 p.m. on the National Geographic Channel, shows that Indians may have made countries like South Africa, England and Canada their homes but they have not jettisoned their customs and traditions.
The young Tamil couple is all excited as the Hindu priest has consulted the almanac, and the date for the marriage has been set. Viewers are invited to join the wedding party for cleansing ceremonies, selection of the Talli and a visit to the oldest Hindu temple in South Africa.
Finally, on the big day the bride and groom tie the knot and say goodbye to their families as they head out for a new life in Johannesburg. Showcasing that the new overseas Indians who are no longer the hyphenated generation but have learnt to live the lives of global citizens even while keeping their culture intact.
Women of substance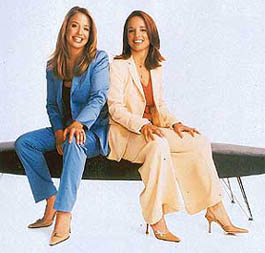 Bermen sisters: Addressing women's health & emotional needs
Discovery Channel shatters the silence surrounding women's sexual health with a new series about women's emotional needs. Berman & Berman: For Women Only, Thursdays at 10.30 p.m, is hosted by two doctors, who also happen to be sisters. They address topics like beauty and self-esteem, childbearing, stress, menopause and relationships.
Drs Jennifer and Laura Berman conduct lively debates on women's issues. Jennifer is one of the few female urologists in the USA specialising in female urology and sexual dysfunction. Laura is a trained psychotherapist who has been working as a sex educator for more than a decade. Both practise at the University of Boston.
Each episode is packed with useful information about the female anatomy and how it really works, advice about sexual problems, guidance on talking to doctors and partners, as well as healthy debate and story telling — and plenty of chuckles along the way.
The two have been involved in numerous clinical trials, including testing the effectiveness of Viagra and other drugs and treatment devices on women's sexual complaints. So, if you are a woman this show is worth your while as it comes from two experts who have not just appeared on The Oprah Winfrey Show and Larry King Live but have hit the covers of Fortune, New York Times Magazine and Newsweek and Cosmopolitan.
— Mukesh Khosla