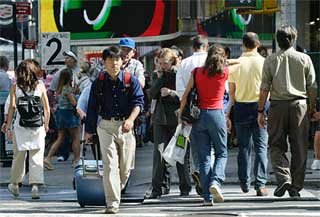 People pass under electronic signs in Times Square in New York on Monday. Financial markets and business opened without a hitch on the first big test for the power supply in parts of the US and Canada since the historic blackout of August 14. — Reuters
J&K Bank to fund viable projects
Chandigarh, August 18
The J& K Bank, the official banker of the Jammu and Kashmir government, is ready to finance all the major viable projects in the state.
BPCL to foray into oil exploration
Mumbai, August 18
Oil marketing company, BPCL, today announced a mega foray into oil exploration and production business and has earmarked a budget of Rs 1,000-1,500 crore.
Net One in Rohtak, Panipat soon
Ambala, August 18
The Chief General Manager, Telecom of Haryana Circle, Mr A.K. Nagpal, said today that Net One, an account-less Internet service, will soon be launched in Rohtak and Panipat.
GRAPHIC: COST INFLATION INDEX


| | | |
| --- | --- | --- |
| | ROUND-UP | |
M&M to bid for Valtra's business
New Delhi, August 18
Mahindra and Mahindra Ltd proposes to buy-off the tractor business of Finland's Valtra Oy Ab. The board of directors of M and M will meet on August 21 to consider a proposal to submit an offer for acquiring the tractor business of Valtra.
Cadila Health net rises 14.15 pc
United Bank may return govt capital
CSI ties up with Nihilent
Henkel profit rises 11 pc