CITCO may run Panchayat Bhavan
Chandigarh, August 20
Panchayat Bhavan in Sector 18, having 27 rooms, is likely to be handed over to the Chandigarh Industrial Tourism Corporation to be run as a budget accommodation for tourists.
Who will investigate Bhardwaj's escape?
Chandigarh, August 20
The Chandigarh police and the Central Bureau of Investigation seem to be not sure as to who would investigate the whereabouts of suspended Judicial Magistrate S.S. Bhardwaj during the period when he had escaped from the CBI custody, after being caught on May 10.


City goes Hare Krishna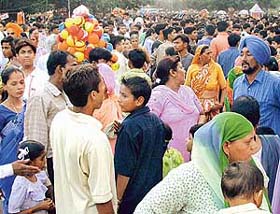 Devotees throng the Gaudia Math Mandir, Sector 20, on the occasion of Janmashthmi in Chandigarh on Wednesday. — Tribune photo Pawan Sharma
Family seeks memorial in son's memory
Chandigarh, August 20
Struggles never end. Six years after his army officer son died along with his wife and son while saving the lives of movie buffs watching "Border" at Uphar Cinema in New Delhi, Captain Vardeep Singh Bhinder of Amritsar is still fighting for getting a memorial constructed in his only child's memory.
Documentary to be made on Ladakhi tribe
SAS Nagar, August 20
The advent of the Aryans in India is traced back to 2500 years ago when the first Central Asian tribe set its foot across the Indus river. Tall, fair, well built and extremely good looking, the Aryans were thought to have fought and defeated the Indian aboriginals who were said to be short, dark and stout with snubbed noses.
Coke drive to regain fizz
Chandigarh, August 20
Reeling under the impact of the countrywide outcry against the presence of deadly pesticides in Coca-Cola, the American multinational seems to be finally getting its act together.
BSNL offers free internet service on new connections
Chandigarh, August 20
Bharat Sanchar Nigam Ltd has announced that all the new subscribers who book connections between August 20 to September 3, 2003, would be offered free 50 hour internet connection valid for 60 days.
PU plans promotions on merit
Chandigarh, August 20
Panjab University plans to make promotions, particularly in the non- teaching branches, on the basis of merit and not seniority. A proposal in this regard will come up for discussion at the forthcoming Syndicate meeting.