M A I N N E W S
Liver transplant gives new lease of life to 9-year-old
Tripti Nath
Tribune News Service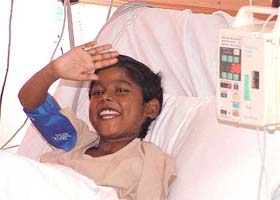 Arti, the first child in India to receive liver transplant from a cadaveric donor, is all smiles at the ICU of Ganga Ram Hospital in the Capital on Thursday. ó Tribune photo Mukesh Aggarwal
New Delhi, August 21
Nine-year-old Aarti suffering from cryptogenic cirrhosis has survived the merciless verdict of terminal illness. On the morning of Independence Day, Ganga Ram Hospitalís liver transplant team spread smiles as Aarti, the first child in India to get a successful reduced liver transplant from a brain-dead (cadaveric) donor, was wheeled out of the operation theatre after a 12-hour-long surgery.
Six days after the transplant, Aarti, who was suffering from the rare liver disease, is cheerful and stable in the Intensive Care Unit (ICU) of the hospital. The five-member team which performed the rare liver transplant is satisfied with the young girlís progress and plan to move her to a protected environment in a couple of weeks. The hospital decided to bear the expenses (Rs 10 lakh anticipated in this case) to help Aartiís father, Ramdas who is on the housekeeping staff.
The team which has achieved this medical feat includes Dr Samiran Nundy, Senior Consultant Surgeon and Head of the Department of Gastrointestinal Surgery, Dr A.S. Soin, Consultant Transplant Surgeon, Dr Subhash Gupta, Liver Transplant Surgeon, Dr Sanjiv Saigal, Consultant Hepatologist, and Dr Neelam Mohan, Consultant Paediatric Gastroenterologist and Hepatologist.
Dr K.C. Mahajan, Emeritus Consultant Surgeon and Chairman, Department of Academics at Sir Ganga Ram Hospital, told TNS here on Thursday that the hospital would arrange for her stay in a protected environment till they are satisfied with her condition. The hospital will also arrange for her lifelong medication which includes an immunosuppressor a day.