CBI directed to quiz five top officials in Taj corridor case
New Delhi, August 21
Indicating that at least five important persons, including some high-ranking officials of the Uttar Pradesh Government were involved in sanctioning the controversial Rs 175 crore Taj Heritage Corridor project in Agra as per the CBI's interim report, the Supreme Court today directed the agency to interrogate them immediately and verify their assets.


Man kills wife, shoots at son, daughter
SAS Nagar, August 21
It was a depressing morning for the township with households turning into scenes of heinous crimes. While in Phase 10 here, a man shot dead his wife, before shooting at his teenage stepdaughter and six-year-old son, in another incident at village Chandiala, a 22-year-old woman was burnt to death while her husband is battling for life with over 80 per cent burns.

(Details on Chandigarh page)


Blood stains on the diwan cover are gory reminder of the murder in SAS Nagar on Thursday.
— A Tribune photograph
HOROSCOPE
THE TRIBUNE MAGAZINES
On alternate Mondays

On Sundays
On Saturdays
IN PASSING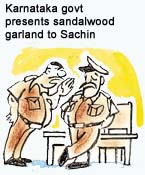 Is it taxable or not?

by Sandeep Joshi
Probe into Badal assets to be over by November-end
CM promises power to farmers
Naushera Pattan (Gurdaspur), August 21
Virtually ridiculing Deputy Prime Minister L.K. Advani's charge that the Congress government had adopted a political vendetta against its political rivals, Punjab Chief Minister Amarinder Singh today said Mr Advani's statement was "shameful".


Punjab page: 10 supporters of Vinod Khanna, SAD booked

MLA demands CM's resignation

Editorial: Bridge that divides

Liver transplant gives new lease of life to
9-year-old
New Delhi, August 21
Nine-year-old Aarti suffering from cryptogenic cirrhosis has survived the merciless verdict of terminal illness. On the morning of Independence Day, Ganga Ram Hospital's liver transplant team spread smiles as Aarti was wheeled out of the operation theatre after a 12-hour-long surgery.
Plan to introduce Bill on cow slaughter shelved
New Delhi, August 21
In the face of stiff opposition from its crucial allies, the government today beat a retreat in the Lok Sabha and shelved plans for introduction of a Bill for banning cow slaughter but decided to convene an all-party meeting in a bid to evolve a consensus.


Ranjit Singh's statue unveiled in Parliament House
New Delhi, August 21
Sikh leaders finally got their due place in the Parliament complex with the Prime Minister Atal Bihari Vajpayee today unveiling the statue of Maharaja Ranjit Singh riding a horse and the portraits of Master Tara Singh and Baba Kharak Singh, who left an impeccable mark on the polity of Punjab.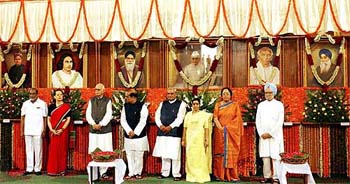 Prime Minister Atal Bihari Vajpayee, along with other leaders, poses for a group photo after unveiling the portraits of Bankim Chander Chattopadhyay, Kazi Nazrul Islam, Master Tara Singh, Dr B. Pattabhi Sitaramaiah Pantulu, Dr K. Munshi and Baba Kharak Singh at Parliament House in New Delhi on Thursday. — PTI photo

In Career Guide today
20 hurt as police clashes with Khanna supporters
August 21, 2003
No-trust motion defeated
August 20, 2003
Oppn charges govt with all-round failure
August 19, 2003
Battlelines drawn for no-trust vote
August 18, 2003
'Bought brides' of Punjab face societal wrath
August 17, 2003
PM invites Pak for walk on peace road
August 16, 2003
SC bans capitation fee in private professional colleges
August 15, 2003
2 killed, 50 hurt in Kashmir blasts
August 14, 2003
Musharraf proposes ceasefire along LoC
August 13, 2003
27 feared dead in ONGC copter crash
August 12, 2003