M A I N N E W S
Sushma Swaraj clears the air
Denies giving clean chit to soft drinks
Tribune New Service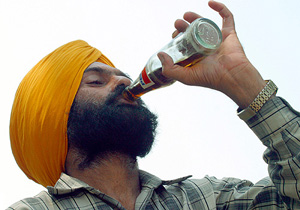 A man drinks a Pepsi soft drink in New Delhi on Friday. The government has set up a Joint Parliamentary Committee to investigate pesticide levels in soft drinks made by Coca-Cola Co and PepsiCo Inc, a day after the government declared them safe. — Reuters photo
New Delhi, August 22
Health Minister Sushma Swaraj today asserted that soft drink manufacturers had "committed one more mistake" by advertising her statement in Parliament on the controversy generated over the pesticide residues in the beverages.
"The matter is subjudice and a Joint Parliamentary Committee has also been set up. They should not have done so......They have committed one more mistake", she said when reporters repeatedly quizzed her over the huge hoardings and newspaper advertisements in the Capital.
The advertisements quoted Mrs Swaraj that "all these (soft drinks) are well within safety limits".
Replying to repeated queries on the advertisements, the minister said she had "not given them a clean chit" and insisted that she had not seen any advertisement or hoardings.
At the same time, she said the soft drinks were within the prescribed norms applicable now, but there was need for further improvement. "I am not apologetic about it at all", she said, dismissing concerns over the current norms in soft drinks.
"The standard for bottled water should also be applicable to soft drinks. A draft notification is being issued in a day or two before issuing the executive notification", Mrs Swaraj said.
The government has already notified the prescribed limits for pesticides in packaged drinking water which would be applicable from January next, she said.
Mrs Swaraj said the government would also take steps for setting standards for groundwater to ensure high quality drinking water through civic bodies. She, however, made it clear that these standards would not be as high as that of the bottled water. "If we keep the EU standards for groundwater high, people will die of thirst".