HOROSCOPE
Editorial: The cola controversy deepens

Business page: Cola row to hit US investment

SC declines to stay High Court order on gurdwara panel
New Delhi, August 22
The Supreme Court today declined to stay the Punjab and Haryana High Court order quashing a Punjab Government notification restoring the Sikh Gurdwara Judicial Commission with its three members who were holding their posts prior to its reconstitution in 1999.

India rout Pak 7-4 in Champions Trophy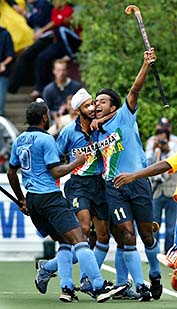 Amstelveen, August 22
Rising from the ashes like the Phoenix, India scripted a dream win as they humbled arch-rivals Pakistan 7-4 to round off their league assignments on a rousing note at the 25th Champions Trophy Hockey Tournament here today.


Sports page: Morale booster for Indian hockey

Indian hockey: colts on top


India's Gagan Ajit Singh (R) celebrates his goal against Pakistan with team-mates Baljit Singh Dhillon (L) and Baljit Singh Saini (C) at the Champions Trophy in Amstelveen on Friday. India won 7-4. — Reuters photo

In Sports Tribune today
IN FOCUS
In our series, State of Universities, Chief of Bureau P.P.S. Gill examines the functioning of Haryana Agricultural University, Hisar,
on Edit page.

THE TRIBUNE MAGAZINES
On alternate Mondays

On Sundays
On Saturdays
IN PASSING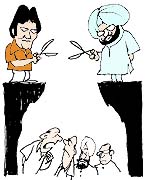 Don't you think we need another bridge also?

by Sandeep Joshi
British police clueless about missing cricketers
Jalandhar, August 22
The British Police is still clueless about the whereabouts of five women cricket players from Punjab, who had gone missing from London on August 12 under mysterious circumstances.
BJP takes DMK to task on cow slaughter Bill
New Delhi, August 22
Taking exception to the DMK's stand on cow slaughter ban, the BJP today sought to remind its key ally that its representatives were in the government and that its decision should be acceptable to it.
Editorial: Cow Bill rolls back
ASI submits excavation report
To be opened on August 25
Lucknow, August 22
The Archaeological Survey of India today submitted a report in the Lucknow Bench of the Allahabad High Court on the excavation carried out in Ayodhya to ascertain whether a temple existed at the site where a mosque was built during the 16th century. "The report has been kept as a secret document under lock and key will be opened on August 25," a court official told The Tribune.
Nation page: Muslim morcha formula on Ayodhya


Boy united with family after three years
Freed from bonded labour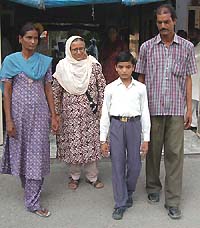 Amritsar, August 22
Ten-year-old Malkiat Singh, alias Happy, who was too shocked and terrified to reveal the name of his parents even as he stayed at Pingalwara for three months which is barely 2 km from his home, has finally found the courage to reveal his identity and he was reunited with his parents today.

Malkiat Singh, alias Happy, is united with his father Sukhvinder Singh on Friday by the Pingalwara society in Amritsar. — Photo Sawinder Singh

Sushma Swaraj gives clean chit to Pepsi, Coke
August 22, 2003
20 hurt as police clashes with Khanna supporters
August 21, 2003
No-trust motion defeated
August 20, 2003
Oppn charges govt with all-round failure
August 19, 2003
Battlelines drawn for no-trust vote
August 18, 2003
'Bought brides' of Punjab face societal wrath
August 17, 2003
PM invites Pak for walk on peace road
August 16, 2003
SC bans capitation fee in private professional colleges
August 15, 2003
2 killed, 50 hurt in Kashmir blasts
August 14, 2003
Musharraf proposes ceasefire along LoC
August 13, 2003