Sunday, August 24, 2003
Garden Life
Experiment with the ananas
Satish Narula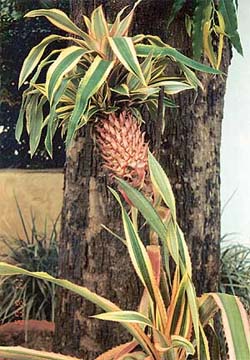 The ananas plant shows very slow growth in the beginning
HAVE you ever thought of growing the ananas in the living room, that too the ornamental variety? Some innovative gardening enthusiasts have done it. They are the ones who keep the interest in horticulture alive with new experiments. They are, in the true sense, the conservationists of biodiversity.
The accompanying picture shows an ornamental ananas growing at the Sector 2 residence of Justice S.S.Kang, a former Governor of Kerala.
Ananas, the word is derived from 'nanas', the South American name for the pineapple. Not many people know that it is also a kind of terrestrial bromeliads. It is not at all a fussy plant. It grows exactly like the bromeliads. It has whorled leaves, in a rosette formation. The ornamental ananas has leaves that are a metre long. It is strap-like with a whitish-golden margin and pink flushes. The leaf margin is highly spiky. The plant has, therefore, to be kept at a place where its barbed foliage does not tear the clothes or prick the hands and eyes. It has especially to be kept out of the reach of children.